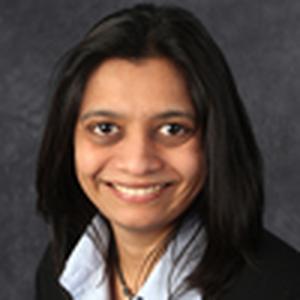 Nita Patel, P.E., is a Systems and Software Engineering Director at L-3 Warrior Systems.
Nita was recognized as the 2014 L-3 Engineer of the Year for outstanding achievement as the Technical Lead for the Hand-Held Target Location Device (HHTLD) program. Nita's direct technical contributions leveraged her strong hardware/software background. Nita provided exceptional leadership throughout the program, finalizing technical decisions and enhancing cooperation of the engineering sub-teams.
Nita received the 2003 National Weather Service OS&T Systems Engineering Center Special Citation for her work on the Open Radar Data Acquisition Project. Nita contributed significantly in the architecture design, algorithm development, system integration and full deployment of the next generation radar signal processing to the 178 NEXRAD sites around the world.
Nita was named the 2011 New Hampshire Engineer of the Year award for her technical contributions to the engineering profession and level of community service. She is the past Women in Engineering International Chair and serves on the Computer Society Board of Governors and Eta Kappa Nu Board of Governors. She served as 2010-12 IEEE-USA VP of Communications & Public Awareness and Secretary/Treasurer of the Computer Society MGA Board. As MGA WIE Chair, Nita led the successful launch of the WIE International Leadership Conference and developed a comprehensive business strategy to fulfill the mission of WIE to inspire, engage and advance women in technology.

Outside of IEEE, she is active with Toastmasters and the United States Chess Federation. Having served in multiple leadership roles with Toastmasters, Nita works to help other develop confidence, enhance their communication skills and learn leadership skills. Nita received her MS Computer Engineering (1998), BS Electrical Engineering (1995) and BS Mathematics (1995) from Southern Methodist University in Dallas.
[Programming descriptions are generated by participants and do not necessarily reflect the opinions of SXSW.]
Events featuring Nita Patel
Events featuring Nita Patel