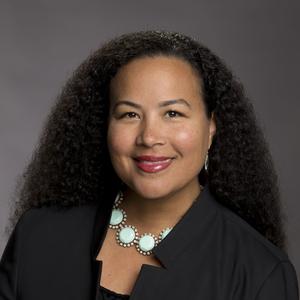 "Tiffany Smith-Anoa'i was named Executive Vice President, Entertainment Diversity, Inclusion & Communications, CBS Entertainment in February 2016.

Smith-Anoa'i reports to Kelly Kahl, President, CBS Entertainment, on new and existing programs that foster diversity across the division, and to Chris Ender, Executive Vice President, Communications, CBS Corporation, for her ongoing CBS Communications activities.

In this position, Smith-Anoa'i expands upon the division's current diversity initiatives, as well as develop new programs that recruit, nurture and hire diverse talent to work in front of and behind the camera. In addition, she serves as the entertainment liaison to multi-cultural coalition groups and provides outreach to agencies, guilds and other industry organizations that represent diverse talent.

She had been Senior Vice President of Entertainment Diversity & Communications since 2015. Since being appointed Vice President, Entertainment Diversity & Communications, CBS Entertainment in 2009, Smith-Anoa'i created and launched ""CBS On Tour,"" a community outreach program in which executives visit schools to educate and encourage students interested in entertainment careers; expanded the writer selection process for ""The CBS Diversity Sketch Comedy Showcase;"" implemented an annual symposium with casting directors to strategize on best practices to diversify the casting process; partnered with GLAAD to host learning workshops and joined forces with the Geena Davis Institute on Gender in Media to encourage roles for women in front of and behind the camera.

In addition to her executive duties, Smith-Anoa'i, who first joined CBS Entertainment in 2000 as a Senior Publicist for primetime series, continues to draw upon her background and talents as a network publicist, leading West Coast efforts on various projects and network specials, including the annual Grammy Awards®.

Prior to her work at CBS, Smith-Anoa'i was responsible for all aspects of publicity and promotions for Image Public Relations. There, she took on a multitude of projects, including organizing the global press outreach for ""Sinbad's Soul Music Festival."" Preceding her position at Image Public Relations, Smith-Anoa'i worked for NIKE, Inc. where she launched their NIKETOWN stores in Los Angeles, New York and San Francisco.

Smith-Anoa'i's community service and charity work includes the Make-A-Wish Foundation and Girl Up. Tiffany serves as a board member for Big Sunday and The Muslim Public Affairs Council. She is also a Board of Trustee member for The Archer School for Girls. Tiffany maintains a close relationship with her alma mater, Howard University, where she graduated with honors from the School of Communications. In 2013, Howard University presented her with the ""Global Visionary Award"" for Outstanding Leadership in Diversity and Communications.

Currently, she resides in her home town of Los Angeles with her husband, Reno J. Anoa'i, and their daughter."
[Programming descriptions are generated by participants and do not necessarily reflect the opinions of SXSW.]
Events featuring Tiffany Smith-Anoa'i
Events featuring Tiffany Smith-Anoa'i