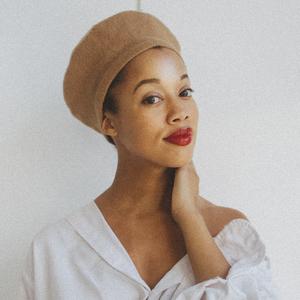 Lauren Ash is a wellness visionary, yoga and meditation guide, sought-after speaker and writer, and Founder and Executive Director of the culture-shifting lifestyle brand synonymous with black women's wellness—Black Girl In Om.
Lauren's contributions to the world ultimately reflect what she once needed and didn't see. From her cultivation of self-care sessions to the Black Girl In Om Podcast—which has already reached more than one million listeners—her leadership in creating and cultivating meaningful experiences and content for a hugely marginalized community illuminate the compassion, care, and belonging that she affirms all black women are deserving of. Her work is resonating with everyone—she is named "a leading voice in the healthy-living world" by Well+Good, declared "one of the most important voices in the wellness industry" by Shape, and one of Wanderlust's "35 under 35 in Wellness to Watch".
The journey that has led to this place is one rooted in community, care, divine timing, manifestation, and a purpose-driven life.
Since founding the leading platform for women of color on their wellness journeys in 2014, Lauren has repeatedly been recognized as a trailblazer in the contemporary wellness movement. Her tremendous influence on modern believes about mindful living, beauty, and well-being have garnered her partnerships with brands such as Adidas, Bon Appetit, Glossier, Nike, OWN, Target, Samsung and SXSW. Girlboss, Glamour, mindbodygreen, Teen Vogue, Thoughtfully Magazine, and Well+Good, are a short list of other wellness and lifestyle brands and publications Lauren has contributed to. Catch her cover story at CRWN Magazine and past features in ELLE, Essence, Forbes, Saint Heron, and Yahoo Beauty.
[Programming descriptions are generated by participants and do not necessarily reflect the opinions of SXSW.]
Events featuring Lauren Ash
Mar 10, 2018
4:40pm — 5:10pm
Mar 11, 2018
12:00pm — 12:30pm
Events featuring Lauren Ash
Mar 10, 2018
4:40pm — 5:10pm
Mar 11, 2018
12:00pm — 12:30pm