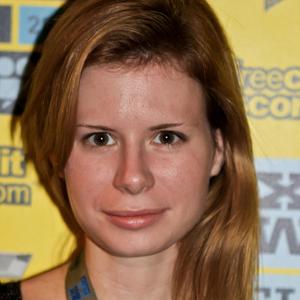 ELLE SCHNEIDER is a director + cinematographer from New York City. Her work has been featured in Vanity Fair, Maxim, The Hollywood Reporter, Wired, Rolling Stone, and MovieMaker. An avid cinephile with a passion for genre films, who cites Roger Corman, David Lean, Fritz Lang, and James Cameron as her biggest influences, Elle is the foremost expert on 1959 sci-fi melodrama TEENAGERS FROM OUTER SPACE. She writes about cinematography for the International Cinematographer's Guild (Local 600) Magazine, and is a member of the International Collective of Female Cinematographers (ICFC).
A director working cross-platform in short film, TV, branded content, and music videos, Elle often selects projects that feature dark and unconventional stories, like supernatural western NEAR TO SUPERSTITION (Panasonic) or sex-work documentary JKTV, and work that resonates with her interest in time period, texture, and color. A fan of collaborating with musical artists, she has directed videos for Gangstagrass, Mock Sun, Sad13, Isla June, and two for Speedy Ortiz, which premiered in Vanity Fair and Billboard respectively. Her shorts have played at festivals like Slamdance, Sidewalk, HollyShorts, and Tallgrass.
In addition to her music videos, extensive work as cinematographer includes two seasons of History's acclaimed docu-drama THE FOOD THAT BUILT AMERICA, two narrative features, numerous short films, and documentary THAT GUY DICK MILLER, which premiered at the SXSW Film Festival. 2nd Unit shoots as DP include GAMEMASTER (#1 Doc iTunes), I AM DIVINE (SXSW), HALF THE PICTURE (Sundance), FRAMING JOHN DELOREAN (Tribeca), and ROBERT KLEIN STILL CAN'T STOP HIS LEG (SXSW).
Events featuring Elle Schneider
Presented by
Panasonic Cinema
Events featuring Elle Schneider
Presented by
Panasonic Cinema