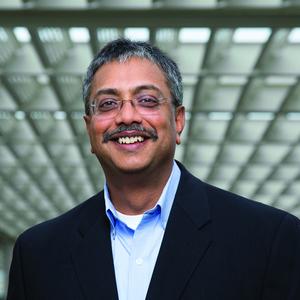 Vijay Swarup's mission is to ensure billions of people worldwide have access to reliable, affordable energy and a better quality of life – all while minimizing impacts on the environment, including the risks of climate change. By preserving endless curiosity and driving continuous improvement, he sees ExxonMobil as leading the scientific discoveries to solve the biggest energy challenges of the next 50 years.
As the vice president of research and development, Vijay leads a team of scientists and engineers in developing ways to improve supply options of the world's energy resources, as well as advance carbon capture technology, biofuels and alternative energy. ExxonMobil is a leader in carbon capture systems, leading several carbon dioxide injection projects over the past three decades. ExxonMobil is also researching and developing oil from algae to be used as a renewable, lower-emission alternative to traditional transportation fuels. Vijay believes successful research and development has the ability to change society's future and its impact on the environment.
A 30-year veteran of ExxonMobil, Vijay continues to believe the solutions of tomorrow will be unveiled through ongoing curiosity leading to scientific discovery. Throughout his career at ExxonMobil, Vijay has assumed a variety of leadership roles in engineering, chemicals and planning, from Alberta, Canada, to Baytown, Texas. Vijay earned Bachelor of Science degrees in chemistry and in chemical engineering from Purdue University and a Ph.D. in chemical engineering from Rutgers University.
[Programming descriptions are generated by participants and do not necessarily reflect the opinions of SXSW.]
Events featuring Vijay Swarup PhD
Events featuring Vijay Swarup PhD