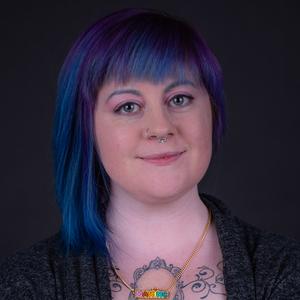 Angela is an artist and educator passionate about wearable technology. With a background in design, performance, and education outreach Angela brings a unique perspective to teaching electronics and design for wearables.
As an independent designer, she creates playful and interactive electronic costumes and crafts. Angela has been working at the intersection of costume and electronics since 2005, has written over 50 online guides, and featured in Make and HackSpace magazines. Her strong ties to the DIY wearables and maker communities began in 2009 with Soft Circuit Saturdays, a blog dedicated to tools and techniques for soft electronics. Angela has taught over 100 workshops, including sessions at Dragon Con, Denver Comic Con, SXSW, Fashion Institute of Technology, WEAR (Smart Fabrics), NSTA, and ISTE.
Recently, Angela spent time as a product manager at SparkFun Electronics, where she lead development on the LilyPad sewable electronics line and created supporting documentation and projects for the brand. Prior to that, she was part of the SparkFun Education team as an outreach coordinator serving the greater maker education community with professional development, project and curriculum development, and creating meaningful event experiences for makers of all ages.
[Programming descriptions are generated by participants and do not necessarily reflect the opinions of SXSW.]
Events featuring Angela Sheehan
Events featuring Angela Sheehan