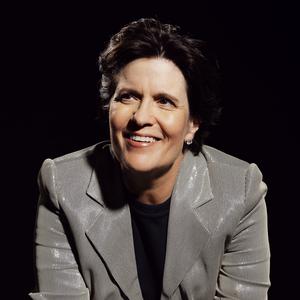 Kara Swisher is host of On with Kara Swisher and co-host of the Pivot podcast. She's also editor-at-large of New York Magazine. She is the former host of the Sway and Recode Decode podcasts and the co-founder of the technology website, Recode.
Considered the top reporter in the tech game, Swisher has been reporting on the industry since the early 1990s. She was there when Amazon was looking for its first headquarters in Seattle, when Google was in its garage and when Netflix was just a small startup. Once called "Silicon Valley's most feared but revered journalist" by New York Magazine, Swisher has established herself as the oracle of the tech world with unrivaled access to the industry's most significant leaders.

Swisher was previously a contributing New York Times opinion writer and host of the podcast, Sway. She co-founded the technology website Recode and, before that, co-produced and co-hosted The Wall Street Journal's "D: All Things Digital" conference series (now called the Code Conference) with Walt Mossberg starting in 2003. It was, and still is, the country's premier conference on tech and media, with interviewees such as Amazon CEO Jeff Bezos, Tesla Technoking Elon Musk, Vice President Kamala Harris, former Secretary of State Hillary Clinton, Meta CEO Mark Zuckerberg, Google and Alphabet CEO Sundar Pichai, Netflix co-CEO Ted Sarandos, and many other leading players. She and Mossberg were also the co-executive editors of a tech and media website, AllThingsD.com, founded in 2007.
Events featuring Kara Swisher
Mar 10, 2018
12:30pm — 1:30pm
Events featuring Kara Swisher
Mar 10, 2018
12:30pm — 1:30pm