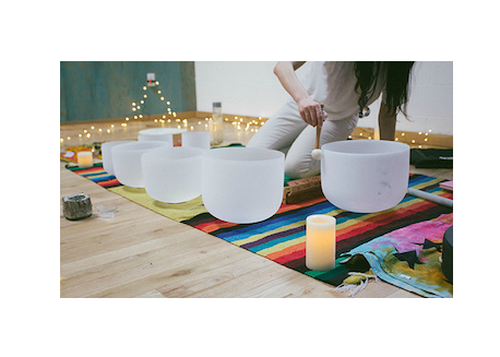 Stacey Griffin (Shift Meditation) and Morgan Yakus come together to create an exploratory, narrated soundscape experience into space.

The collaboration of words and sonic sounds will enable the participants to hear without sight, creating an internal vision that allows the sound to come more into focus for an audio and visual listening exploration. Allowing the participants to deepen and explore their experience into the IMAX of their mind as they float through space and landscapes seeing a different perspective of earth and space.

Stacey Griffin is an Amsterdam based sound healer and meditation teacher fusing art, music and meditation to create immersive healing experiences. Morgan Yakus is a modern hypnotist and active meditation teacher based in LA and NY, who has worked all over the world teaching workshops which have a foundation of neuroscience and keeping the brain in mind. Presented by New World Native.
For more information visit me-convention.com
[Programming descriptions are generated by participants and do not necessarily reflect the opinions of SXSW.]
Primary Entry: Music Badge, Platinum Badge, Film Badge, Interactive Badge