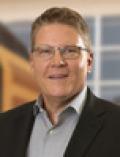 Edward Craner is responsible for leading the strategic planning and marketing functions for HOLT CAT and its affiliates.
His organization is focused on cultivating new strategic market opportunities, growing demand for HOLT products and services, and creating a world-class experience for HOLT customers.
Marketing areas of responsibility include corporate communications and integrated marketing efforts across the HOLT operating territory. His organization drives the company's branding and identity, advertising, public relations, e-channel initiatives and field marketing programs to ensure strong connections with customers and all stakeholders. He also oversees internal communications and the company's digital properties, as well as the customer experience practice.
Edward joined HOLT CAT in January 2008 as the Director of Strategic Marketing following a successful career at AT&T where he held senior management positions in strategic planning, procurement, customer experience and sales operations.
Edward earned a Bachelor of Arts in Media Communications from Eastern Washington University and a Master of Business Administration from Saint Mary's College of California. He is a native of eastern Washington State.
He holds accreditations from the American Society of Quality (ASQ) and the Institute of Supply Management (ISM); is a volunteer instructor for Junior Achievement; has served three consecutive terms as a Commissioner for the Upward Basketball League; is active in his local church; and is a strong supporter of the United Way.
He is also the author of two books, "There's Nothing Gross About Profit" and "The Saints of God's Country."
Events featuring Edward Craner
Mar 14, 2017
9:30am — 10:30am
Presented by
Caterpillar Inc & Holt CAT
Events featuring Edward Craner
Mar 14, 2017
9:30am — 10:30am
Presented by
Caterpillar Inc & Holt CAT