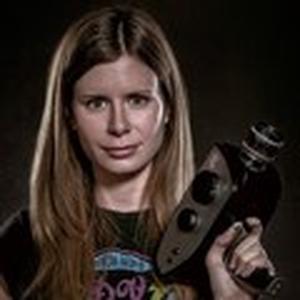 ELLE SCHNEIDER is a filmmaker from New York City. An avid cinephile with a passion for genre films, Elle is the foremost expert on 1959 sci-fi melodrama TEENAGERS FROM OUTER SPACE and industrial film studio CENTRON CORPORATION. She is an International Cinematographer's Guild (Local 600) director of photography, writes about cinematography for ICG Magazine, and is a member of the International Collective of Female Cinematographers (ICFC).
Credits as cinematographer includes two seasons of History's acclaimed series THE FOOD THAT BUILT AMERICA, narrative feature 18 1/2, numerous short films and music videos for artists like Speedy Ortiz and Gangstagrass, and documentary THAT GUY DICK MILLER, which premiered at the SXSW Film Festival. 2nd Unit shoots as DP include GAMEMASTER (#1 Doc iTunes), I AM DIVINE (SXSW), HALF THE PICTURE (Sundance), FRAMING JOHN DELOREAN (Tribeca), ROBERT KLEIN STILL CAN'T STOP HIS LEG (SXSW), and WOODLANDS DARK AND DAYS BEWITCHED (SXSW).
As a director working cross-platform in short film, TV, branded content, and music videos, Elle often selects projects that feature dark and unconventional stories. Her work has played at festivals like Slamdance, Sidewalk, HollyShorts, and Tallgrass, and been featured in Vanity Fair, The Hollywood Reporter, Wired, Rolling Stone, and MovieMaker.
A graduate of USC's School of Cinematic Arts, Elle spent 5 years as the co-designer and creative director of Digital Bolex, the world's only crowdfunded cinema camera. She crafted a brand identity and advertising strategy that gained international recognition, and facilitated the camera's use on features like ME AND EARL AND THE DYING GIRL, MY ART, and BURYING THE EX, and television shows like SCANDAL, EMPIRE, and GLEE. In 2016 she paired with the National Film Board of Canada to sponsor a suite of films, including STONE MAKERS, which was nominated for a 2017 Canadian Screen Award for Best Short Documentary.
Events featuring Elle Schneider
Events featuring Elle Schneider