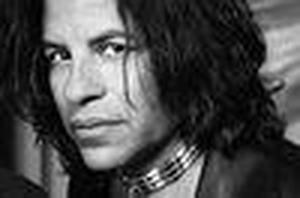 Stevie Salas left the small town of Oceanside California in 1985 moving to Hollywood dreaming of a career in music. Eight months later he was discovered by funk music legend George Clinton as the guitarist for Clinton's albums. He would then go on to work on important albums by Bootsy Collins and Was ( Not Was). He received his first major label Producer credit with Was (Not Was) when he Co Produced the UK hit Out Come The Freaks form the Album What Up Dog? Rolling Stone Magazine listed What Up Dog? As one of the top 100 records of the decade. The record also featured the 1 global smash hit Walk The Dinosaur. In 1988 he then skipped cities in a private jet playing lead guitar for Rod Stewart, playing sold out stadiums and also signed the largest record deal Island Records had ever payed for a new artist. His second solo album " Back From The Living" ousted the Rolling Stones and Aerosmith for "Best Album" in Japan and his first record Colorcode released in 1990 is still a cult classic in the UK and Europe.
Most books including Guitar Player Magazine name him as one of the Top 50 Guitarists of All Time.
Stevie has sold over two million solo albums around the world.
As a guitar player, writer, and producer Stevie has also worked with Mick Jagger, Bootsy Collins, Bill Laswell, Public Enemy, Michael Huthchence, Was (Not Was), Terrence Trent D'arby, Koshi Inaba and Tak Matsamoto ( BZ Japan), Ronald Shannon Jackson, Eddy Money and in 2009 played on the #1 global hit "Dead and Gone" with Justin Timberlake and TI as well as over 75 other major label records.
Salas is currently producing two prime-time TV series in Canada and a Native American music documentary for PBS. In September, he released a memoir, "When We Were the Boys" with Taylor Trade Publishing.
Events featuring Stevie Salas
Events featuring Stevie Salas