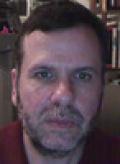 I'm a New York freelance writer/editor who's done features and reviews for dozens of print and online publications and interviewed hundreds of artists over the years. I've also contributed to music book collections (featured in "Best Rock Writing 2014"), written liner notes for reissues and served as a panelist/moderator at conferences (in addition to SXSW, also New School, Fordham University). My writing has been included in publications such as Billboard, New York magazine, Rolling Stone, Amazon, Associated Press, Spin, the Village Voice, Billboard Magazine, Time Out, Film Comment and Bookforum.
I'm also the main editor/publisher of the longest running online music magazine, Perfect Sound Forever (http://www.perfectsoundorever.com).
I've also done production work including OHM, a box set of electronic classical music that was Grammy nominated, as well as reissues of post-punk pioneers Delta 5, Kleenex/Liliput and Essential Logic, No Wave legends DNA and the Athens underground group Oh OK.
In addition, I'm supportive of the field of journalism, having written several year-end collections of the best music writing for publications such as Red Bull Music Academy, Blurt and Popmatters and completed interviews of over 100 music writers regarding their advice about their profession.