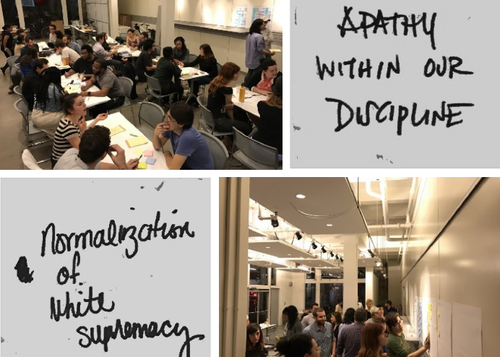 To protest is to have an unyielding faith in the potential for a just society. It is an act of individual and collective hope, in the face of all evidence to the contrary. The act of protest, requires not only an awareness of true inequality, but a compulsion to speak out against it in its many forms. It is a roadblock to injustice and ultimately an affirmation of its alternatives. Design speaks to these alternatives and attempts to visually and physically represent our collective aspirations for the future.This workshop will highlight the intersectionality of the community design profession and how transdisciplinary work that partners outside of the design field strengthens outcomes and more effectively gets to the root of systemic social issues. We will share traditions of movement building and community organizing as well as facilitation tools to support effective multi-stakeholder engagement in design process. We will discuss issues of outreach and how to organize direct actions. We will share powerful precedents that intersect social justice and cultural work and discuss how this can inform our design practices. We will work on tangible tools that you can implement in the field
The Design Justice Platform (DJP) is a means to establish a set of ethical, socially and environmentally conscious guidelines for operating as designers. Design As Protest (DAP) is a Design Justice gathering to bring community members, artist, activists, and designers together in pursuit of a design intervention with the explicit intention of addressing the systemic issues of injustice throughout the built environment.
This event is part of the Social Good Hub, a creative content venue curated and produced by SXSW Eco. See the full schedule of programming and special events at sxsw.com/socialgood.
Primary Entry: Music Badge, Platinum Badge, Film Badge, Interactive Badge