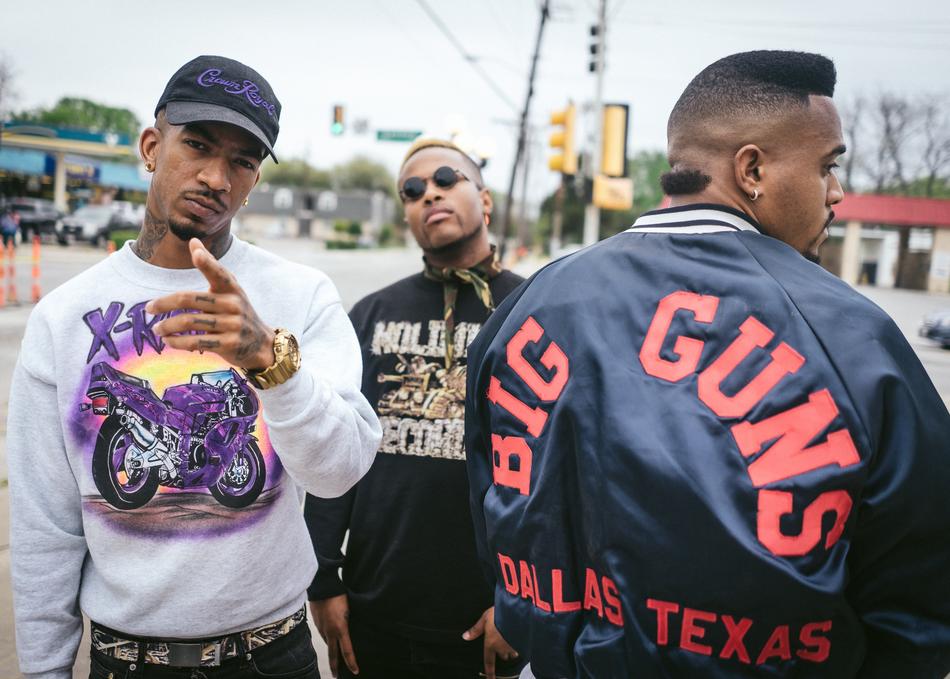 The Outfit, TX - "Look Into My Eyes"
Born and raised Texans Dorian, JayHawk, and Mel make up the hip hop band The Outfit, TX. Consisting of two producers and three emcees, TOTX's story begins in the city of Dallas, where all three members are from.
Since its commencement, TOTX has been hard at work developing their specific brand of alternative, Gulf-coast hip-hop soundwaves. The trio has released several notable, critically acclaimed, self-produced projects, including Starships & Rockets: Cooly Fooly Space Age Funk (2012), Cognac/Four Corner Room (2013), Deep Ellum EP (2015), and Down By The Trinity (2015). They have been lauded by the likes of The Fader, Noisey, Complex, SPIN, and numerous other leading publications. In 2012, Starships & Rockets was voted one of Houston's "Best Underground Rap Tapes" by the Houston Press, receiving coverage from the likes of 2Dopeboyz, Fox Austin, and Complex Magazine. MTV Hive called them "The Best Rap Group You're Not Talking About (Yet)". Their double-disc album, Cognac/Four Corner Room, exists as two varying solo projects conjoined at the hip to represent the juxtaposed unity that makes up TOTX. Entirely produced, written, and engineered by Mel and Dorian of TOTX, Cognac/Four Corner Room takes listeners deeper into the individual spirits of TOTX's two founding members. Complex ranked it as one of the top ten Houston Rap Mixtapes of 2013. Complex also premiered their 2015 project, Down By The Trinity, which HipHopDX bestowed a 4/5 "X-rating." The group's rise continued in 2016, as their mixtape, Green Lights: Everything Goin', ended up #16 on FACT Mag's "50 Best Albums" List, and #4 on their Best Rap Albums List.
TOTX's live show reputation precedes itself. Since headlining their first sold out show at Warehouse Live, in Houston, they have consistently performed in Dallas' "Deep Ellum" Arts District. They have performed at all the premiere venues in their hometown from House of Blues to the Granada, embarking on their first tour in 2014, joining Run The Jewels for 10 dates of their national tour. They set sail on their second tour in 2015, joining Seshollowaterboyz on their sold-out Texas Tour.
The future holds much more for these three southern gentlemen, as they continue their pursuits of shifting sonic paradigms.
Subgenre: Hip-Hop / Rap
From: Dallas, TX