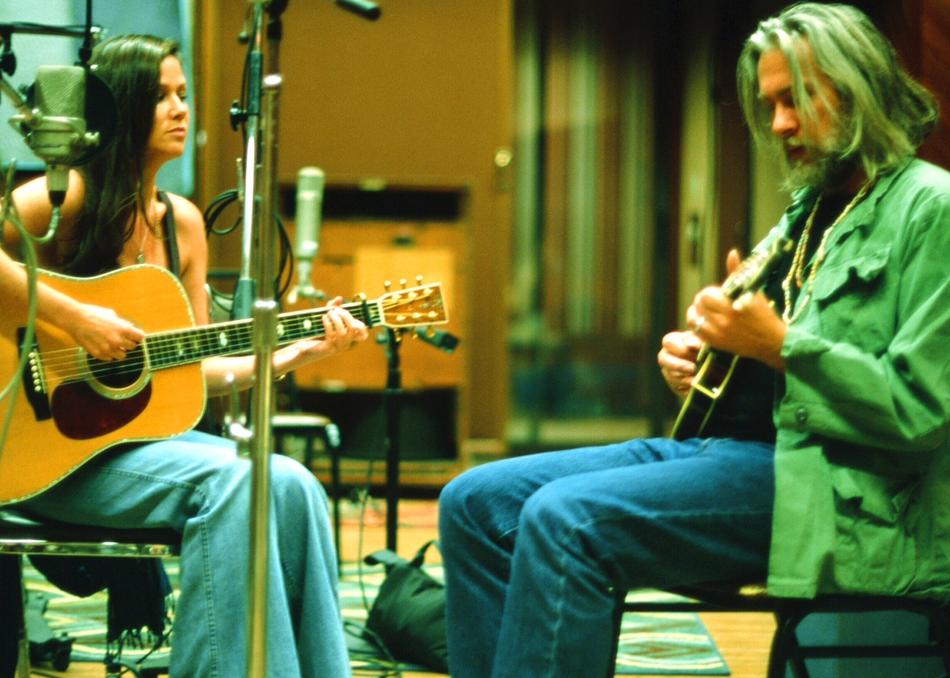 Allison Pierce - Evidence
ALLISON PIERCE
YEAR OF THE RABBIT
"This album feels like the most important creative outpouring of my life so far," Allison Pierce says of her solo debut, Year of the Rabbit (Sony Masterworks, XX), produced by Ethan Johns (Ryan Adams, Ray LaMontagne, Paul McCartney). "It feels like the most genuine expression of who I am, musically and personally."
The new album is Allison's first as a solo artist, following two decades of recording and performing with her sister Catherine as The Pierces. The duo's five albums and constant tours brought them critical acclaim and a loyal fanbase, especially in Britain. But as the years passed, each longed to express herself unfettered by the other, and in August 2015, The Pierces decided to take a break, whereupon the sisters launched solo careers.
"When you're in a group with another person, there's always compromise," says Allison. "There were amazing times, and there were some really challenging times—probably some of the most challenging times in my life. You know that saying from Proverbs, 'As iron sharpens iron, so one man sharpens another'? That's what it felt like. Now, we're both free to finally express exactly who we are.
"Over the years, I'd write these songs knowing they weren't Pierce's songs, and I collected them in anticipation of the day when I could record them myself. I'd been waiting to do this record for years. I'd envisioned the whole thing, so I was ready, and waiting patiently for the opportunity to make it."
Allison and Johns met back in 2000 while he was producing Ryan Adams' debut album, Heartbreaker, in the same Nashville studio where The Pierces were recording their self-titled first album. The sisters became friends with Johns and Adams, who asked Allison to sing on "Lover, Why Did I Leave" with him. Seven years ago, when The Pierces were on a break, Allison sent Johns the songs she'd been collecting, and he loved them, but their busy schedules wouldn't permit making an album then.
In the summer of 2015, soon after the sisters decided to go their separate ways, the planets finally lined up: Pierce and Johns made the album essentially by themselves at Hollywood recording mecca Sunset Sound, in much the same way he'd acted as producer and one-man studio band on LaMontagne's 2003 debut LP, Trouble. As always, John recorded in computer-free analog mode, straight to magnetic tape, the luminous results of his methodology serving to underscore the timelessness of the songs and performances.
On the basic tracks, Allison played acoustic guitar and sang while John played drums. He then painstakingly built the arrangements piece by piece, playing each part and overdubbing Allison's backing harmonies. The only outside contributors were Gabe Witcher, who supplied fiddle on two tracks, and Greg Leisz, who played pedal steel on another.
"It was intense," Allison says of the experience, "because Ethan is trying to capture something that's really intimate, and the more vulnerable, the better. Sometimes I'd feel like a take wasn't my best musical performance, but Ethan would say, "No, no, no, this is the magic.' He hears something that's special, something that would appeal to the emotions of the listener."
Not surprisingly, chief among Allison's musical touchstones are fellow Birmingham native Emmylou Harris, with whom she shares a serene yet aching vocal delivery, and Joni Mitchell. She's been listening to both since childhood in her music-filled family home; their albums were staples in the collection of her musician father. "Emmylou is a huge inspiration for me, and Joni taught me how to bare my soul in a song," Allison says. "She was the first one I heard do it in a way that deeply affected me. She does it somewhat differently, but I feel like that's the way I write."
The lilting, piquant "Fool Him," which opens the album, explores the travails of would-be lovers who can't seem to get in sync. "That song is about laying bare the most vulnerable part of yourself to someone you love, and they're not responsible with the love you give them," she says. The following "Evidence" (the first single) is presented in classic folk-rock style, as a jangling 12-string electric guitar, a cantering groove and sultry overdubbed harmonies frame Pierce's contemporary retelling of the myth of the Original Sin. "Any good story has a villain, and the more epic the story, the more epic the villain—it makes the story complete," Allison notes.
"To the Grave," which Allison wrote with her sister, seems similarly Old Testament in its stoic acceptance of mortality. "The more we can accept and understand death, the more meaningful life becomes," she says. "I played it live recently, and when I was done, someone yelled from the crowd, 'That was so uplifting.' It may seem strange that a song about death can be uplifting, but I think that's what's important about that song: to go into death with joy."
"I Can See for Miles," which Allison considers to be one of the album'
Subgenre: Acoustic
From: Los Angeles, CA