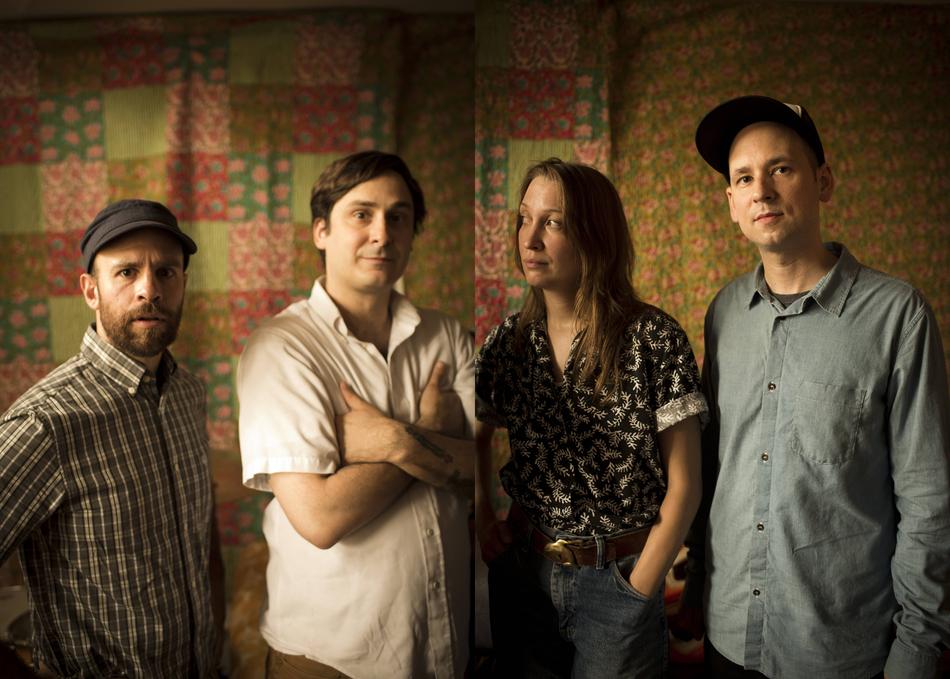 Joan of Arc - This Must Be The Placenta
Chicago's Joan of Arc is never reliant on the status quo. In the course of their history, the band's recorded output has elicited not only critical praise through challenging the norms of traditional songwriting, but also significant backlash from reviewers who became increasingly confused by the band's eclectic output. Following an eight year stint with Delaware's Jade Tree Records, Joan of Arc made the jump to a new label and a new beginning with Polyvinyl late spring 2004.
Joan of Arc's genesis can be traced to the days of Cap'n Jazz. Cap'n Jazz was founded by brothers Tim Kinsella (vocals) and Mike Kinsella (drums), bassist Sam Zurick, and guitarist Victor Villareal while they were still in junior high or high school. In the band's last year, guitarist Davey von Bohlen joined. Although Cap'n Jazz's history was short-lived, they built a strong local following in the Chicago area and released two 7″s, several split 7″s, numerous compilation tracks, and a full-length.
Following Cap'n Jazz's July 1995 break-up, Tim Kinsella began writing experimental, abstract songs with keyboardist/guitarist Jeremy Boyle. Additionally, Tim and Sam Zurick were both learning new instruments (guitar and drums respectively) in a separate band with bassist Erik Bocek (a high school friend who had also doubled as Cap'n Jazz's roadie). Their songs paid homage to bands like The Modern Lovers and Slant 6. After some discussion, and with the addition of Mike Kinsella, the two groups became one.
Shortly after the first show, Joan of Arc recorded 1996's Method & Sentiment EP on Jade Tree. The Busy Bus, Sunny Sun EP on Southern was the band's second release and appeared in 1997. Both were 7″s. Several months after the Southern 7″, the band's debut full-length, A Portable Model Of, was released on Jade Tree June 1997. The album painted post folk and post rock on top of impressionistic aural canvases. The calm instrumentation, odd sounds, and effects on the album established a template the band would continually re-examine and re-invent on successive albums. With the appearances of Azita Youssefi ( Scissor Girls, Bride of No No, Azita), Ryan Rapsys (Euphone, Heroic Doses), and Davey von Bohlen (The Promise Ring, Vermont, Maritime), the album established the Joan of Arc precedent of using outside collaborators to assist in fleshing out the core group's songwriting.
1998's How Memory Works LP was more realized and complete than A Portable Model Of. The album creatively displayed electronics and composition alongside bits of analog synth noise and short sound vignettes within a rock framework. By the time the album was released, Sam and Erik quit the band and were replaced by Todd Mattei (Friend/Enemy, L'Altra). The album showcased the band's ability to deconstruct and reinterpret traditional rock in addition to classical madrigals and various forms of classical structure.
Although Joan of Arc wanted to distance themselves musically from Cap'n Jazz, the past inevitably caught up to them in 1998 when Jade Tree released a 2-disc Cap'n Jazz anthology. The discography was unintentionally revisionist. What had been a group of teenage friends playing in a punk band was now being touted by zine culture as a band who had galvanized a genre. Suddenly Cap'n Jazz had "dominated the Chicago indie scene of the early nineties" and were "a band who helped transform emo from a deeply underground punk subgenre into a more widely accepted subset of indie rock." Not only were such statements false (their following had been highly regional and by no means dominant, their overall influence was most likely being distorted by the success of Davey von Bohlen's band, The Promise Ring), but Joan of Arc was now tagged with a genre buzzword that didn't fit.
Joan of Arc's reaction to the increased visibility was to become more minimalist. With 1999's Live in Chicago, 1999, the band pared themselves to a three-piece with Jeremy Boyle, Tim Kinsella, and Todd Mattei handling the songwriting reins. Contributors included Kevin J. Frank (Gauge, Radio Flyer), Mike Kinsella (American Football, Owen), Jen Wood (Jen Wood, The Postal Service), and others. The album also marked the first time the band would heavily use the studio as an instrument. Engineers Casey Rice and Elliot Dicks were invaluable in creating the sparse, warm soundscapes on the album. The album delighted hardcore Joan of Arc fans, confused critics expectations of the band, and began to cultivate the "love 'em or hate 'em" debates that began to surround the band. The record just sounded different. One of the reasons was that on the first two Joan of Arc albums, Casey recorded the rock tracks and Dicks handled the experimental songs. On Live in Chicago, 1999, the equation was reversed.
The line-up that appeared on 1999's Live in Chicago, 1999 appeared again, albeit expanded, with 2000's The Gap. The continuous decision to deconstruct and reconstruct song structures and the increased emphasis
Subgenre: Indie Rock
From: Chicago, IL