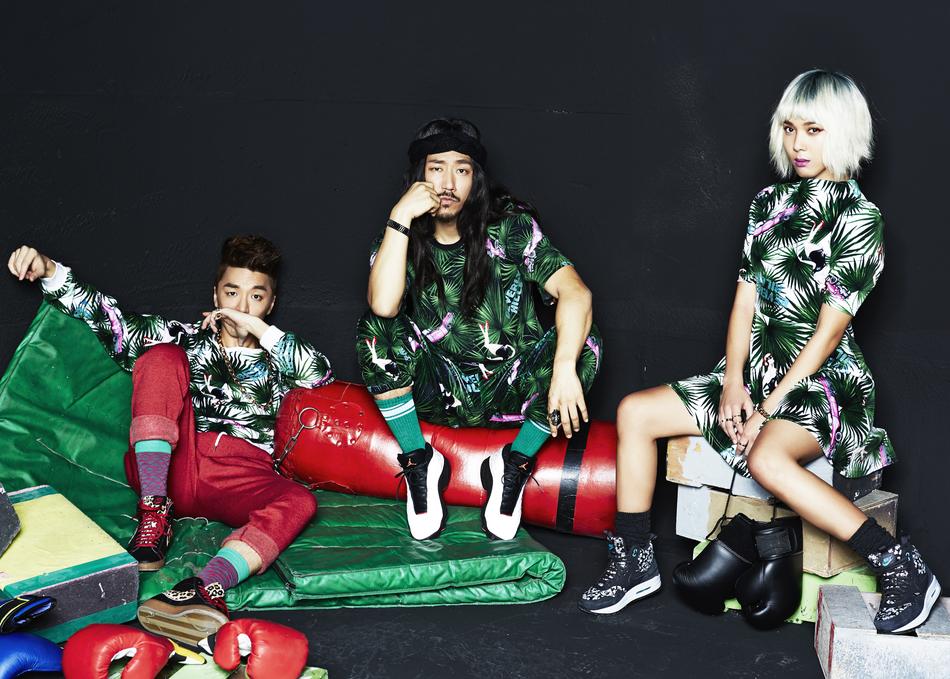 credit: Drunken Tiger (Bizzy/Tiger JK) x Yoonmirae [Photo Courtesy of Feel Ghood Music]
Drunken Tiger - Sweet Dream
/ BIO /
If you were to Google the 'godfather of Korean hip hop' one name would pop up – Tiger JK. Born in Seoul, raised partially in the US, his duo Drunken Tiger dominated the fledgling Korean hip hop scene in the late 90s. They changed its dimensions, which had revolved around pop-centric, choreographed acts like Seo Taji and the Boys, by throwing down old school vibes, chopped up samples and JK's own NSFW outlook on life. Hugely instrumental in solidifying the scene, he brought up other underground rappers as he went, who commonly became known as the Movement crew.
Since those early, controversial days much has changed; alongside chart success, awards, wedding Korea's acclaimed female rapper Tasha (Yoonmirae), and becoming a parent, Tiger JK formed MFBTY (My Fans Are Better Than Yours) in 2013 with Tasha and long-time [Drunken Tiger] collaborator and rapper Bizzy. He then split with the seminal label he'd founded, Jungle Entertainment. For a moment it seemed the 'godfather' was now more out than in, even by hip hop standards. The genre was fast becoming a seriously commercial venture through TV talent shows and MCs teaming up with idols to ensure their music gained mainstream traction, and JK, and indeed MFBTY, were merely standing on the fringe.
'Wondaland', MFBTY's second full length album, is the first material since JK lost his father to cancer. It's an almost a shocking turnaround in terms of music - an eclectic, pop friendly album at odds with their ride or die hip hop credentials. Love songs sit alongside choppy, aggressive hip hop, while reggae tinged grooves nestle next to EDM remixes. There's tracks with Rap Monster (BTS) and Junhyung (Beast), both 'idol rappers', a breed of artist MFBTY had once shunned. It's a wild, unpredictable ride (perhaps emblematic of Tiger JK's career), but the raw, spitting honesty remains untamed even as they bravely kick the stocks from under their wheels to move forward into a new era with a new audience.
While Bizzy is a reticent interviewee ("You're making me sweat," he protests at anything directed towards him), Tasha and JK are as forthcoming as ever. Though the wisdom that comes with age has made them aware of the repercussions of their words, the notoriously fickle and complicated Korean music industry, and their place in it, continues to provide fuel. And where MFBTY's music is concerned there's many truths still to be told.
SOURCE : Dazed Digital [2015.04 Korean Rap Is Your New Favourite Thing]
/ AWARDS & HONORS /
2016 Apple iTunes SE Asia : #1 Pop Singles Chart (Yoonmirae)
2015 Billboard Magazine : Best K-Pop Albums of the Year (#5 MFBTY)
2013 Billboard Magazine : Best K-Pop Songs of the Year (#2 Drunken Tiger x Yoonmirae)
2013 Complex Magazine : Top 15 Rappers in Korea (Drunken Tiger)
2011 MTV Iggy : Top 12 New Female MCs in the World (Yoonmirae)
2011 Korea Music Awards : Hip-Hop/Rap Album of the Year (Drunken Tiger)
2011 Korea Music Awards : Hip-Hop/Rap Song of the Year (Drunken Tiger)
2008 Korea Music Awards : R&B/Soul Album of the Year (Yoonmirae)
2008 Korea Music Awards : R&B/Soul Song of the Year (Yoonmirae)
2005 MNET Asian Music Awards : Video of the Year (Drunken Tiger)
/ INTERNATIONAL FESTIVALS /
2016 Concrete & Grass Music Festival (Shanghai PRC)
2013 MIDEM Festival (Cannes FRA)
2013 Music Matters Live (Singapore SG)
Subgenre: K-Pop
From: Uijeongbu, SOUTH KOREA