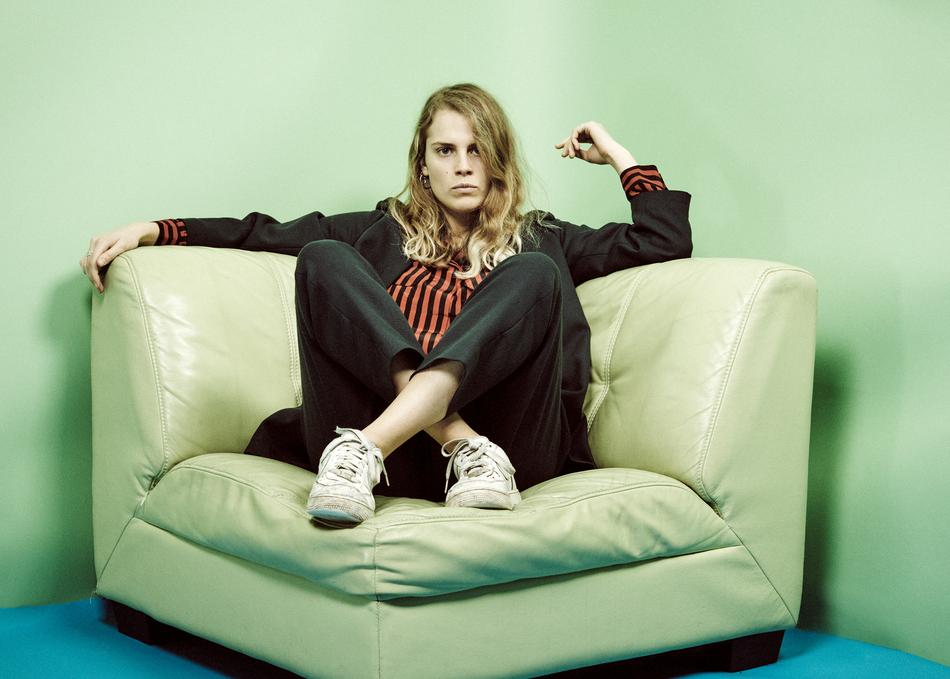 Marika Hackman - Boyfriend
It's amazing how the floodgates open when you shut out all the internal and external noise around you, stop pandering to stereotype, cease listening to your anxieties, and no longer feel like you have to fit inside the compartment society has built for you. 'I'm Not Your Man', the second album from Marika Hackman, begins with an impromptu hearty laugh. It's not the sound of silliness, it's the sound of liberation, spontaneity and collective joy. Skype-ing from one of the many East London bedrooms she's called home over the past year, she peels a piece of tape off her laptop's webcam. "I watched Black Mirror once," she says in fine spirits. The 24-year-old is feeling more herself than ever. Life isn't necessarily funnier or happier, but when there's cause for a joke or a conversation or a big ballsy statement, she's not holding back any more.
"I used to be very self-conscious," explains Hackman, all breezy. "If something sounded a bit too pop or like I'd heard it before I'd mould it into something different. This time around I thought, Fuck it I'll just let it flow." The results of this newfound semi-anarchic approach to songwriting are most immediately heard in the grungier, harder, catchier thrill of 'I'm Not Your Man'. But beyond the sound, the biggest departure is in the writing. The new Hackman is far less introspective and self-conscious. Marika 2.0 is unhinged, uninhibited and shamelessly free.
Before last Christmas, Hackman and her friend and producer Charlie Andrew (Alt-J, Rae Morris) finished mastering the follow-up to 2015's 'We Slept At Last' in Iguana Studios, Brixton. Written across various flatshares in London, the oldest song 'Violet' was penned almost 18 months ago. Why did it take so long? Well, first off Hackman left her management and signed a label relationship with AMF Records (Loyle Carner). That didn't just lend Hackman new avenues for exploration, it bought her a lot of time and a lot of distance – mainly, she insists, from herself. Hackman never panders to the expectation of others. Her own worst enemy has always been within. This time she vouched to cease preventing herself from going where she wanted the songs to take her. Naturally, that took a minute. "I stopped being a massive control freak!" she says.
The break from her former team and the decisions she'd had to make since has left her feeling freshly empowered. "I wanna put myself out there," she says. "How are people gonna connect with me if I'm hiding behind a wall?" Hence titling the record 'I'm Not Your Man' after one of the lyrics. There's an open-ended nature to the discussions within, conversations on femininity, sex and sexual identity, millennial ennui, the pressures of living in a social media bubble and the perils of being young in a fast-paced industry. "The record's all about female relationships, romance and breakdowns, but there's also a dim worldview going on. 'I'm Not Your Man' can either mean, 'I'm not your man, I'm your woman', or it can mean, 'I'm not a part of this…'," explains Hackman.
It's a fiery statement from a songwriter who no longer wants to be shackled to limiting descriptions. When presented to the world five years ago, Hackman couldn't escape the trappings of being compared to every other fey English rose singer-songwriter lady with a guitar. "I'm not some miserable git that walks about feeling depressed all the time," she laughs. "None of my friends would describe me like that." From the opening of 'Boyfriend' you immediately sense the transition. It signals a raw, rockier and immediately more brazen beginning to a 13-track record that packs a far gutsier live punch than any of her prior folk leaning output. It's also really funny. "I've got your boyfriend on my mind," she teases, finally breaking out of couching her thoughts on sexuality and love in metaphors. "I felt more bold and confident to stop hiding things, to stop talking about water, lakes and trees when I just wanna write about the fact that I've broken up with my girlfriend."
The themes of sexual fluidity are ongoing throughout. "People find it easier now to identify as queer, lesbian or gay, it feels more safe." Hackman hasn't yet decided how to define her own sexuality but has had plenty prior experience to know what bums her out. Men, for instance, who seem to think lesbianism or queerness between women is born out of a male fantasy. "Some guys think it's fine for their girlfriends to get with another girl. But if it's with another guy they go ballistic. The language we use pisses me off. It's the passive stuff that drip feeds into society and winds up being far more damaging." To deal with it head on, Hackman flips the construct around and addresses The Man herself – literally and figuratively.
At first, producer Andrew, who has worked on all her previous output, was shocked. "I don't think he saw it coming," says Hackman. "It was a curveball." More surprising, however, was her musical choices. Casting aside the whimsy gu
Subgenre: Alternative
From: London, UK-ENGLAND