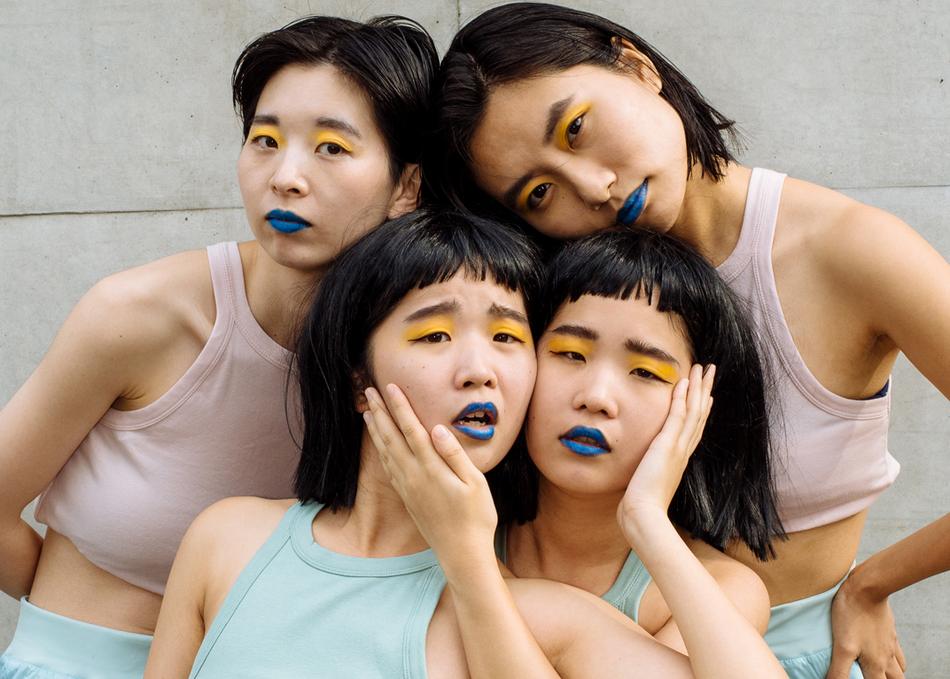 CHAI - GYARAN-BOO
When you listen to CHAI's music, when you watch their gigs / Music Videos, I imagine you might be reminding some great legendary girls artists sort of…, The Slits, TOM TOM CLUB, CHICKS ON SPEED, PEACHES, M.I.A., CSS, tUnE-yArDs, Hinds, whoever… - they actually have a DIY spirits, taste of determined attitude.
Every time people keen to want to know, "Who is next bigger one?"
Here is the answer, next is made in Japan.
The band name is CHAI - Japanese New Generation Band, absolutely will be lined up with all the great artists such like all above riot girls.
CHAI basically 4-piece girls band from Nagoya-city.
Member - Mana (Vo & Key), Kana (Gt. & Cho), Yuki (Ba. & Cho), Yuna (Dr. & Cho)
- Yes, obviously Mana and Kana are TWINS!!!
CHAI's buzzword is "NEO - New Excited Onna-Band" (※"Onna" means girl by Japanese)
Unique, Eccentric, but very much focused on real Cool & Indie Pop music, very rare band made in Japan and innovating their own ONLY ONE style used their playing excellent musical instruments as a band's organization.
In lyrics, they are singing about girls' all complexes, they also invented an emphatic philosophy - "Complex is an Art, Don't hesitate, Heads up and Move on Girls!!!"
Their target is the highest award - GRAMMY - Seriously, Not only nominate, they actually aim to get the principal trophy.
One more target is, "We want to be a Mighty No.3 position in the world!!!"
Oh well what an ambitions…, speechless.
CHAI was formed in 2012 by Mana and Kana asked their classmate Yuna (High school), Yuki (University) - even Yuki had never touched any instruments before…!!!
They started a career as such like a very much Japanese common girly pop band style in their home town Nagoya, gigged at street, some small local venues, made a value pretty much little by little.
Meanwhile, they met with Ryo Tamura a.k.a DJ Retweety - who is an one of experienced music producer / A&R - former Sony Music Entertainment Japan, proposed him as their all productions' producer.
All circumstances were changed undauntedly by his joined to CHAI, they began to focus themselves attention much more cool style, cutting edge's taste.
In August 2015, they released their 1st EP called "Hottaraka-series" (*"Hottaraka" means irresponsible by Japanese) in "OTOTOY.com" - that is basically music and cultural digital sales site by digital High-Resolution-, and also released very limited numbers CD only selling at the venues - This CD still don't ship to the record stores so far.
Eventually, that EP marked No.1 in OTOTOY's weekly chart and CD was initially sold only at their live performances despite didn't enough promotions, didn't advertising activities by indie manner as well.
They actually succeeded to make a huge attention from indie music industry and deep music lovers.
They made a music video from 1st EP "GYARAN-BOO" used innovating Music Video Maker application "Triller" from New York, Triller permitted them "1st Triller's official Music Video all over the world".
Their statement is below.
"CHAI has broken new ground with their creative use of Triller to film a professional-quality full-length Music Video, what a band!!!"
*Triller's website link - http://www.triller.co
In November 2015, Ki/oon Music (one of famous record label in Sony Music Japan) were pick them up their biggest audition called "SLASH", this created an even bigger stir, wowed over 3,000 people to the Studio Coast Tokyo, they scored a musical knockout with a dynamic and impressed performance even their first opportunity such a big stage, which won them high praise from music lovers and the industry much more higher than when released 1st EP.
Coming into the 2016, CHAI got so many invitations and have played at many various music event across Japan than ever include major circuit-style festivals at Tokyo, Nagoya and Osaka, like a South By South West, they delivered mighty performance, and gained the reputation of being a not to miss.
Also at August 24th, they finally released 1st EP "Hottaraka-Series" to nationwide by digital only and major international digital channels and stores - Spotify (unfortunately still not launched in Japan so far), iTunes Music, APPLE MUSIC, Amazon Prime Music and more.
That re-release ensured them an unwavering one of the "Promised Up and Coming girls band" with loads of swagger!
CHAI is actually in an independent industry at present - which means they are exactly STILL NOT valued much in nationwide, nothing of let alone International industry.
However, they will be obvious expressed their own extraordinary position in Japan and International market sooner or later.
On the Europe side, in Spotify UK TOP50 - CHAI's recent lead tune "GYARAN-BOO" was just invading to "UK VIRAL TOP50"(the highest position is #36 at 10th/Oct 2106) without something huge PR/marketings, this crucial achievement frankly explains CHAI is a "First Japanese Musician's succeed in International Chart at New Music Industry at worldwide", that proved CHAI is a Japanese leading girl band what's the CHAI.
They actually have a massive potential of change the mood about amongst recent music industry.
They are at the early stage in their career right now, nevertheless, the time of CHAI's turn will be coming just around the corner.
Subgenre: Pop Punk
From: Nagoya, JAPAN