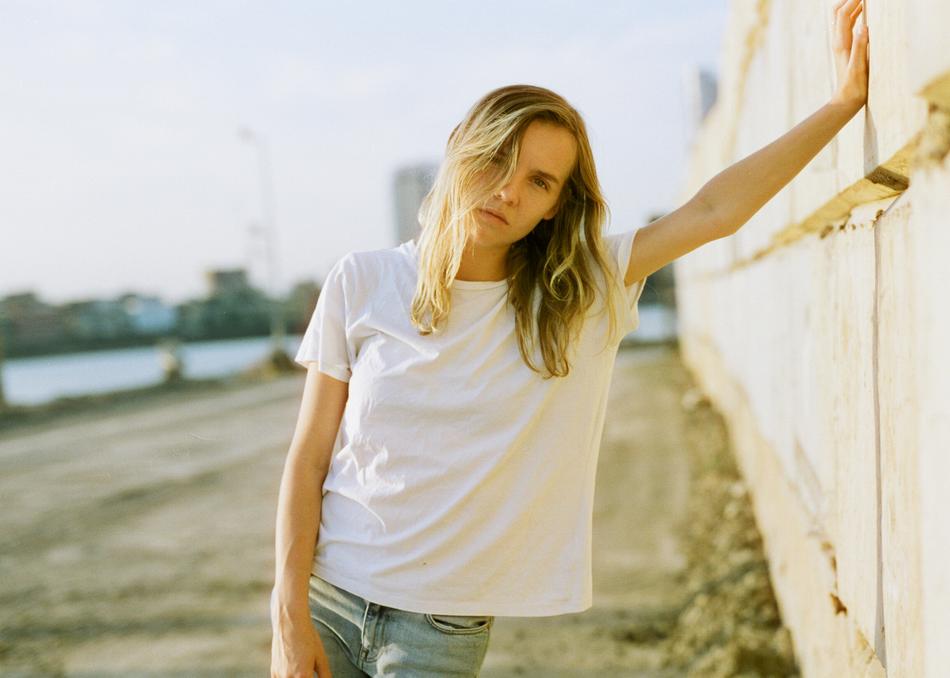 The Japanese House - Face Like Thunder
Expansive yet exactingly nuanced, hypnotic yet uncompromisingly complex, The Japanese House offers up timeless synth-pop whose layered vocals and lavish textures unfold into infinite dimensions of feeling. In each track, East London-based artist Amber Bain charts such terrain as the pain of shattered relationships, the growth that comes from moving solitarily through life-changing experience, and the newfound lucidity that ultimately follows.
A perfectly fitting moniker for music so dreamlike, transcendent, and defiant of all convention, The Japanese House references the Bain family nickname for their vacation home in Cornwall. While staying in that home at age eight, Amber developed a crush on the girl next door. By tucking her hair inside her hat, she soon led her crush into mistaking her for a boy, and within days the girl was sending Amber love letters.
The follow-up to 2015's much-acclaimed Clean, The Japanese House's new EP Swim Against the Tide delves into memory and loss and love of all kinds. Written by Amber Bain and produced by the 21-year-old in collaboration with labelmate George Daniel of The 1975, the EP reveals the emotional intricacy of The Japanese House in songs like lead single "Face Like Thunder." The track offsets its bright beats and radiant melodies with Amber's painfully poignant lyrics ("I kiss the floor, curled up in a ball/There's nothing coming out of my mouth, so I said nothing at all"), brilliantly rendering "Face Like Thunder" both heavy-hearted and hopeful. Another luminous moment, "Good side in" matches Amber's ethereal vocals with her mesmerizing guitar work. On "Leon," meanwhile, Amber proves her lyrical ingenuity by spinning a narrative inspired by the film of the same name. "I got obsessed with how, in the original script, Natalie Portman and Leon are meant to have sex," notes Amber. "The song is about her when she's older. Leon is dead. She's found another guy and doesn't really give a shit about him. She has a child, but her life is really boring."
And on Swim Against the Tide's powerful title track, the many interconnected stories informing the work of The Japanese House become unified at last. "It's about losing someone in a number of ways: literally losing them, and having someone fading through your life, then coming back. It's about them literally being a presence in your head," explains Amber. In the end, she continues, "Swim Against the Tide" strives to examine "the pain of falling for someone—and how the feeling of losing someone, loving them, and them dying are all kind of the same feelings."
Born and raised in Buckinghamshire, Amber began exploring her musicality by playing guitar with her father as a child. Learning to play on a right-handed acoustic—despite being left-landed—Amber quickly became entrenched in the long-enduring art of The Beatles, Frankie Valli and the Four Seasons, and—perhaps most crucially—Brian Wilson of The Beach Boys. Such artists played a central role in shaping Amber's timeless sense of songcraft, as well as the singular melodic sensibilities that make her music so captivating.
Released in 2015, The Japanese House's debut EP Pools to Bathe In features the beautifully devastating debut single "Still," which holds the distinction of being Zane Lowe's last-ever Hottest Record on Radio 1. Written after the end of Amber's first relationship, "Still" illuminates the fragility that lies in directing your heart, and someone else's, into the unknown. With its delicate meditation on both commitment and loss, the song also reflects on the jarring phenomenon of continuing to feel connected even after breaking up. "We went on holiday together afterwards as we'd already booked tickets," Amber points out. "I still really loved them."
In all her musical output, Amber shows a supreme clarity of vision that extends to the visual element of her artistry. To that end, she's traveled to Morocco and Iceland and Los Angeles to take photos for all three of her EPs, essentially serving as creative director for The Japanese House. With her journeys around the world also including tours with acts like The 1975, The Japanese House is now set for a headlining tour of the U.S. and Europe.
Subgenre: Alternative
From: London, UK-ENGLAND