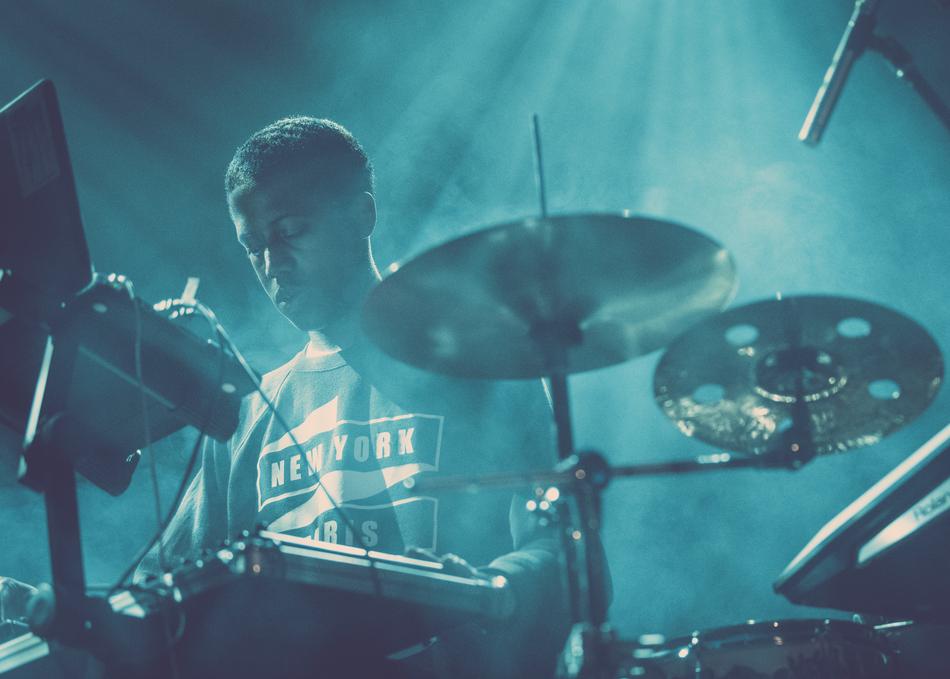 Moses Boyd Exodus - Rye Lane Shuffle
Releasing music under his own label Exodus Records, Moses Boyd leads bands Moses Boyd Exodus and Solo Exodus both of which infuse the worlds of jazz, Afro-beat, grime and electronica. Moses is also one half of award winning duo Binker & Moses.
Moses Boyd is a drummer, composer and producer from south London and recipient of Parliamentary Jazz Awards, Best Newcomer of the year 2016, Giles Peterson Worldwide Awards' John Peel Play More Jazz Award 2016, MOBO Awards 2015 Best Jazz Act and the Worshipful Company of Musicians 2014, Young Jazz Musician of the Year Award.
'Moses Boyd is undoubtedly one of the most exciting artists in London right now. He's got a very traditional style of playing but comes at it from a very new way of thinking, rhythmically. There is so much power when he plays - he is extremely expressive and with Moses everything that you hear sounds very emotion driven. Moses is the only act we have had twice at our annual festival in 5 years.'
Adam Moses, Jazz re:freshed
in April 2016, Moses performed for Grammy, Brit Award and Golden Globe nominee Jamie Cullum's BBC RADIO 2 first live show. He also performed and MD'd for Giles peterson worldwide awards aired on BBC, radio 6.
In addition to his own bands, Moses has worked and collaborated with the likes of Lonnie Liston Smith, Tony Allen, Ed Motta, little Sims, Four Tet, Floating Points, Sampha, Zara McFarlane, Giles Peterson, Soweto Kinch, Kwabs and many more and has toured the world with these artists to Vietnam, Caribbean, Sudan, Egypt, Martinique, Ukraine, Estonia and anywhere you could probably name.
Moses has 2 album releases scheduled in 2017 with Binker & Moses and Moses Boyd Exodus.
Moses is now looking to make a stamp with his own band on an international scale and Moses Boyd Exodus will be performing at the renown Afropunk Festivals in New York and Paris in 2017
Subgenre: Alternative
From: London, UK-ENGLAND