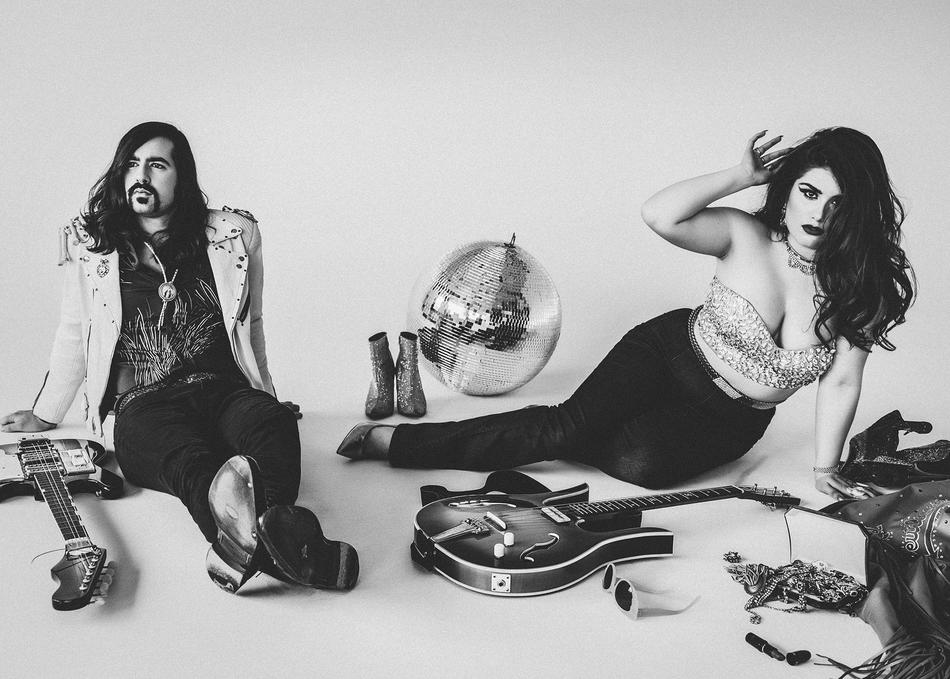 Les Deuxluxes - Springtime Devil
Les Deuxluxes are armed to the teeth with powerful vocals, primal rhythms and two raging guitars. Hailing from Montreal, the two-piece band has attitude and the chops to back it up as they mix glitter and sweat into their own fiery blend of rock 'n roll.
Anna Frances Meyer (vocals, guitar) and Étienne Barry (drums, guitar & vocals, simultaneously) released their 6-song mini-album Traitement Deuxluxe in May 2014 to critical acclaim. Voir's Mickaël Bergeron wrote [their] rock'n'roll is damn efficient while Huffington Post's Mélissa Pelletier has praised Anna Frances' immense, almost golden voice and multi-instrumentalist Étienne's impressive, natural talent. Since then, they've stolen the show at many large-scale Quebec events, including the Montreal International Jazz Festival, the Festival d'été de Québec, POP Montreal and M for Montreal. Notably, they've opened for Lisa LeBlanc and Jon Spencer (Heavy Trash), and in 2015 they took their powerhouse performance on the road to the USA and the Maritimes.
The one-of-a-kind duo promises a hell-fire of a show, and will have the entire room enamoured by their unique and powerful classic sounds (Franca G. Mignacca, Bucket List) in a matter of seconds. Winners of the Télé-Québec award for their show at the FME (Rouyn-Noranda) and nominees for Breakthrough Band of the Year and Rock Album of the Year at the 2014 GAMIQ, Les Deuxluxes' sensual, wild performances are guaranteed to shake you to the core.
On September 2016, they released their critically-acclaimed very first album Springtime Devil. Due to this juxtaposition of new and old, Les Deuxluxes, much like Springtime Devil, is a treasure which defies time to be one of the most innovative releases I have heard in quite some time. (Gerrod Harris, Canadian Beats)
Subgenre: Rockabilly
From: Montreal, QC, CANADA