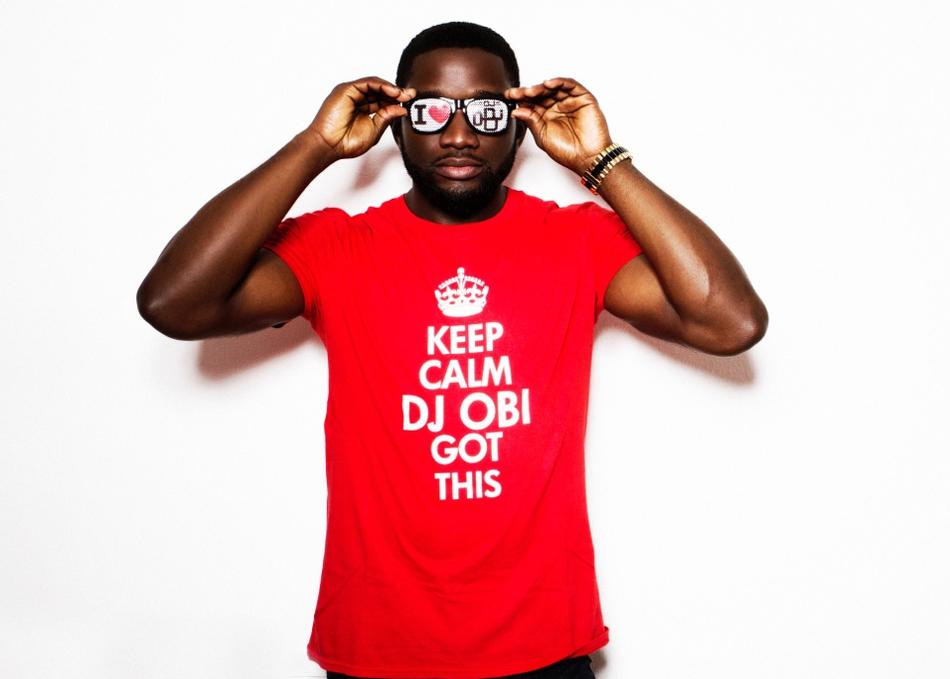 Before he was crowed one of Nigeria's most most requested and renowned DJ's, OBI was a lover of music. Born Obinna Levi Ajunoama, he spent much of his early childhood in the
Eastern part of Nigeria, where he was raised with his parents and his siblings. Music was a constant in his earlier years. His late father Dr Levi Ajuonuma, a popular figure in Nigerian media, raised his children in the studio, where he played out his role as executive producer and host of 'The Sunday Night Show', then eventually, as the host of the wildly
popular 'Open House Party' show on Ray Power FM. It was in these sessions that a young Obi would first become energised by music. "Because my Dad was a DJ, I would keep up to date with as much new music as I could," he explains. "Then he put my siblings & I as executive producers on the show. So we would watch and record as many award shows and music videos as possible and then give him
tips."
With his father heavily entrenched in the business, and a key individual in his life, a journey down a similar path seemed near inevitable for Obi. Later on in his teenage years, his passion for music really began to blossom. A move to the United States to study at Boston University began his next chapter. While on the road to majoring in Media, Broadcasting and Communications, he got a job working in retail, pocketing his wages
and eventually cornering enough to buy some basic DJ equipment. With his arsenal now secured, he began the long, arduous process of showing his talent to the world, starting with Boston. He began looking for venues to play, starting in local house parties thrown by his friends and then soon working his way into official club nights. By the time he had graduated, he was infatuated with the art of DJ'ing, so he kept
practicing, refining his craft at every opportunity. "I just figured that all I needed to do was be good at what I was doing." he says. "I was
practicing and practicing and getting encouragement from my friends and my siblings, and slowly I noticed that the reception would increase after every party." But for Obi, things were only warming up. He had friends studying overseas, London in particular. And so he began travelling, playing in clubs across Marbella, in London's famous West End and 1Oak in New York City to name just a few. In addition to this, the
word of Obi 's DJ'ing skills spread across the music industry and he became hot property through working with artists such as two-time Grammy Award winner T-Pain, rapper Lupe
Fiasco, Nigerian superstars 2Face Idibia, Tiwa Savage, Lynxxx, Banky W and Naeto C. He was fast cementing a reputation as one of Nigeria's most exciting DJ's and with booked gigs in Ghana, Lebanon, Dubai, Abu Dhabi, Canada, South Africa, Spain and Italy under his belt, he was named by his peers 'Global DJ Obi'. DJ Obi is not only boosted by a background steeped in music, but also by the
revolutionising face of the internet. Google and Limewire had erased cultural barriers, and so, while growing up he dove into Hip Hop, instantly taken by Jay Z and Tupac, Outkast
and Master P, before familiarising himself with pioneering DJ's like Ed Lover and Dr Dre who he watched on Yo MTV Raps, and Jazzy Jeff and the Fresh Prince.
"Just seeing the way they controlled the crowd by dropping the record really influenced the way I paid attention to music," he says. "I would listen to things I think the DJ would play and paid attention to what records would draw the biggest reactions." Elsewhere he dove into the golden era of R&B, becoming a fan of Montell Jordan and Keith Sweat's, while also keeping his ear close to the sounds emerging from his own
country, with Blacky and Femi Kuti among his favourites. It was this eclectic taste in sound that bolstered his collection of records, leaving him prepared for any type of situation.
"That way I was able to play any sound: house, Hip Hop or Reggae. Travelling around the world meant I was able to rock any party because my library was diverse." By 2011 Obi had become a popular name in Africa's music circles. Crowned as a local champion by many music lovers on the continent, he went on to scoop a number of accolades including the Nigerian Entertainment Award for 'World's Best DJ'. Just a year
later, in 2012, he left Boston having graduated, and moved back to Nigeria. It was in this
same period that his Dad Levi sadly passed away, sparking a major upheaval in his life.
"Losing my father in such an unexpected, tragic way was one of the single most difficult
things I had to go through in my life so far. It was at this point I decided that I was going to
really push my self not only to become the best in my field, but to ensure I continued my
Dad's legacy in music and entertainment."
Back and living in Nigeria, Obi continued working hard, and in the following years rose to
the crest of a healthy music scene. But that was not enough for Obi, and to stand out
further he would have to be unorthodox.
Subgenre: African
From: Lagos, NIGERIA