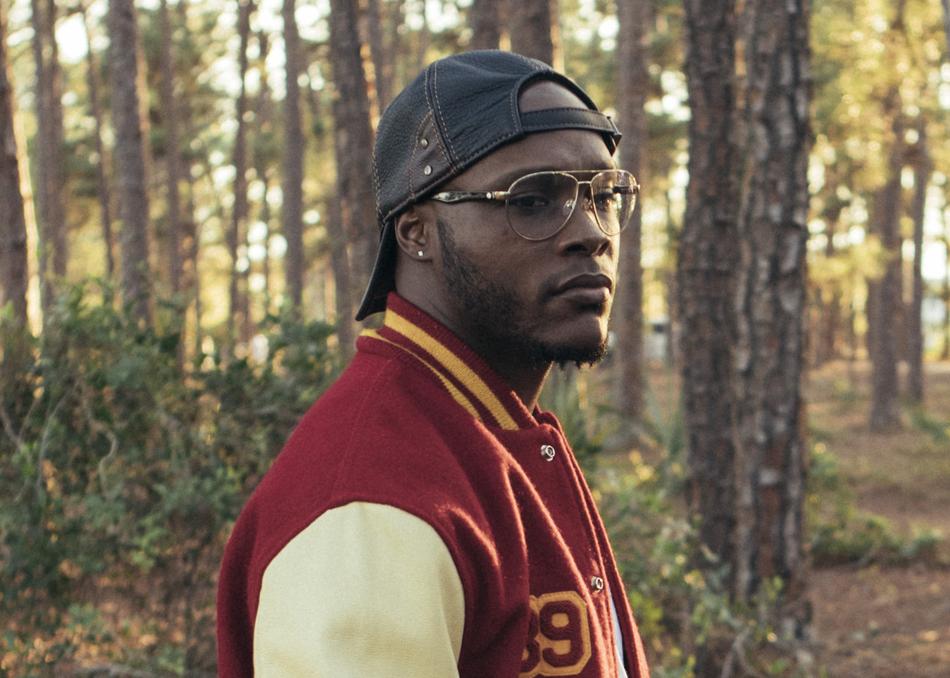 Eric Biddines - Peeuurrnn
Don't be surprised when the first time you listen to an Eric Biddines song it feels like you know him already. He has an accent that reminds you of your favorite cousin down South, who put you up on Outkast, Devin the Dude and Big K.R.I.T. for the first time. His calm demeanor is that of a cool uncle who let you drive his antique Chevrolet Impala around the block when you were learning how to drive. His creative storytelling is comparable to the elder neighbor who could tell you about every person and event to ever happen on your street. But ultimately, it's his conversationalist style, one he's developed from talking to strangers over the years, that makes you feel like you're reconnecting with an old friend.
Raised in Delray Beach, Florida, where the weather swung between sunny and stormy, Eric Biddines grew up in an environment that offered plenty of extremes, forcing him to find balance early on. At home, he was raised in a strict Jehovah's Witness household, but once he stepped out of that sheltering environment he was exposed to the temptation of destructive activity surrounding him. Luckily, Biddines was able to find salvation in another type of religious experience, Hip-Hop.
Inspired by the music his older cousins listened to, Biddines gravitated towards groups like UGK, 8Ball & MJG and Goodie Mob. When he decided to start creating music himself, Biddines initially leaned towards the gangsta rap-themed elements in the music. But as he grew older his voice shifted into a more reality-based tone. Eventually, Biddines quest to find himself lead him into creating his own lane and planet altogether.
"I don't think I'll ever be comfortable being categorized," says Biddines. "I want each of my projects to keep breaking barriers and incorporating new elements sonically and visually. I don't want to be a Southern artist who only makes Southern music."
Starting with his 2010 debut project DaCoffeeShop, Biddines has developed his own record label and musical universe called "planetcoffeebean." This alternative world revolves around Biddines' love of coffee culture from the beauty of the beans to the community of the cafès. While his personal preference is light and sweet with a little cream and sugar, Biddines' music is actually a strong, textured blend that Southern Hip-Hop purists will appreciate.
Biddines shows his range by starting his journey with his first-ever single "Walkin," where he goes on an eye-opening stroll after his car breaks down. In 2013 he followed up with the MTV-featured "Railroads Down," one-part of a trilogy of songs that tells the story of a runaway slave working on train tracks, using him as a metaphor for escaping the rat race and chasing dreams. Fast forward to now, raps about his current mode of transportation on the slow-rolling "Whole Trunk," celebrating creative expression via Florida's "donk" car culture.
After releasing five projects independently, Biddines' critically-acclaimed 2013 album planetcoffeebean 2 caught the ear of music industry veteran Richie Abbott (Tech N9ne, Strange Music) who recruited him to re-release the project on his Juggernaut Sound imprint in 2014. The following year Biddines' music continued to travel, this time all the way to the UK when it caught the ear of producer British Hip-Hop producer Paul White (Homeboy Sandman, Charli XCX, Danny Brown). After receiving an invite to record, Biddines went to England to meet with White and together they formed the group Golden Rules and released their soulful, psychedelic Hip-Hop album Golden Ticket in 2015.
Having already opened for Danny Brown in Florida and toured the United Kingdom, Austrailia and China as an independent artist, Biddines is keeping the momentum going by releasing his next project The Local Cafe in early 2017. The project will feature the homegrown taste that planetcoffeebean fans have become accustomed to, but also includes new flavors that he's picked up from his travels.
Subgenre: Neo Soul
From: Delray Beach, FL