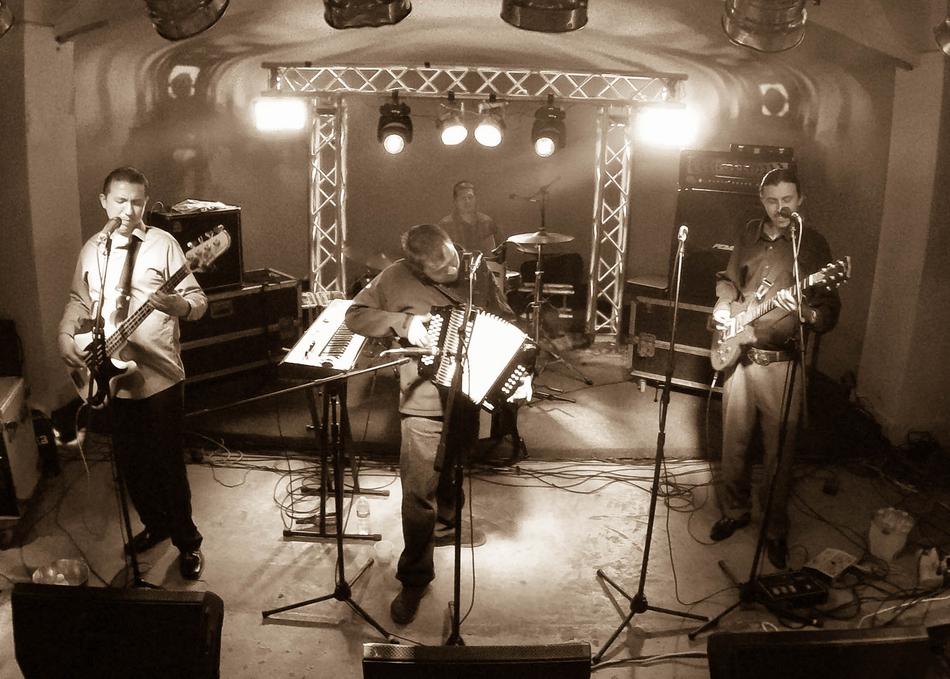 credit: Angela Coneflower 2017
RIO JORDAN rises from deep roots Conjunto and South Texas borderland sound cultivated by the late legendary Latin Rock Tejano TexMexMod "accordion wizard" and music virtuoso ESTEBAN STEVE JORDAN. Today the legacy, lineage, and sound innovations of "El Parche" endure through y familia orchesta succeeded by sons Esteban and Ricardo along with a rotating circle of Texas regional and World Latin roots Rock and Jazz music legends, prodigal apprentices of "the squeezebox", and multi-instrumentalists spanning four generations who join RIO JORDAN to carry the tradition torch of Tejano lineage into the future continuing Esteban's legacy of creating new landscapes in Latin sound, honoring his inspiration, refining his prolific performance flair with original standards and compositions, studying and exploring the entertaining elements of his mastery defined by clever characteristic integration of cultural compositional styles in Tejano Conjunto-Norteno Rancheras, Cumbias, Boleros, Huapangos, Tangos, Romance and Social Justice Ballads, Soundtracks, and Film Scores mixed with musical taste traditions in Rock, Soul, Jazz, Funk, Folk, Country, Rhythm and Blues, Boogaloo, Disco, European Polka, Waltz, Foxtrot and French Zydeco to name a few; blended harmoniously into a "Tex Mex Mod" "Polkapsychedelia" "Brown-Eyed Soul" "Chicano Garage" crafted alchemically by Esteban through his unique origins, lifelong sound study, inspirations, meditations, and innovations. It's true: the formula for a completely new genre in music meets the eyes and ears through the sound scope of RIO JORDAN where expressions from true Latin music origins continue new vibrations set into motion through the Jordan familia, as Esteban Sr. defined a "Capiritada"!
The wide sphere of sound innovation RIO JORDAN shares is a profound and relevant movement in Latin music history; songs developed in relation to their father's influence from his experience and exposure for decades traveling an international radius ranging from taking on tour performance in the migrant farmer music routes as a child, pioneering early music production and recording at the ground level in the grooves of the Rio Grande Valley, developing deep south Texas doowop, boldly exploring and influencing expressions in the New York jazz circuits, cultivating west coast creative collective revolution, joining and empowering early Chicano resistencia and social impulse, nurturing and honoring his new ideas by developing a devotion to his personal style and innovations, and spanning into the task of elliptic excellence elevating his music to international status, indoctrinating into the coveted category of World Music.
What's fresh from the past and inspiring the brilliant future of RIO JORDAN is a truly unique source of South Texas music history expressed and archived through an exciting and immense music collection of unpublished, unreleased full songs and compositions recorded by Esteban himself now emerging from a recently revealed archive of the Esteban Steve Jordan estate with recently discovered reels currently being professionally archived and remastered, including a unique Laurel Canyon-era project recorded in the seventies with members of the Eagles and Three Dog Night!
The story and legend of RIO JORDAN continues to develop with new-era original compositions currently in production, writing in collaboration with a talented mosaic of musicians all bringing their special sauce inspired from the sounds of a prolific source catalog of Jazz standards, early 60's era Jordan Brothers, 70's, and 80's era Tejano Standards, and Steve Jordan original classic compositions developing further into a nostalgic repertoire the community of broad spectrum devoted fans and enduring music enthusiasts are eager to experience!
Listeners and fellow musicians always feel a genuine irresistible intrigue and enthusiasm hearing Steve Jordan and Rio Jordan. A phenomena unique to the Rio Jordan sound occurs when attendees often tend to meet with their feet again on the dance floor with an irresistible inspiration ignited by that extra special Latin sound at every rendition of the RIO JORDAN stage experience where the band's performance confidently continues a current cultivation of deep roots artistic family heritage creating new sound structures flowing through the lineage of RIO JORDAN…from where true Texas origins of sound spring authentic and a unique enduring of a music legacy continues leading into future forms of Latin Rock.
Subgenre: Conjunto
From: San Antonio, TX