Business Rules for Women: Entertainment & Media
Friday, March 18
5:00PM - 6:00PM
This panel is created for all women in business with interests in entertainment and media. During this panel you will hear from 5 women who have created and marketed successful brands within the entertainment industry. This panel will kick off with a speed networking exercise that will challenge attendees to take advantage of the network in the room.
Presenters

Devi Dev
Radio personality
iHeartMedia
Devi Dev is currently a Music Director and #1 rated radio personality heard daily on iHeartMedia's 93.7 The Beat as well as a television pop culture correspondent for CBS affiliate KHOU11.
Prev...
Show the rest

Gabrielle Deculus
Creative Mktg Consultant
Business Rules for Women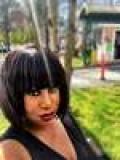 Nicole Garner-Scott
CEO
The Garner Circle PR
Tammy Wyatt
Trend Dir
20.10 Media
Tracy Garraud
Co-host of Sway In The Morning
She's Beauty and The Beast
Tracy G. is a nice Scorpio who loves thick conversations about galaxies, the politics of monogamy, Jesus, magical workouts, and Kim Kardashian's soul. To her success is creating an ever-growing sat...
Show the rest

Yvonne Guidry
Creator & Founder
SpoiledLatina
Yvonne Guidry is the Texan native, bilingual beauty, fashion and mommy influencer behind SpoiledLatina. She uses her platforms as a way to express her own opinions and reminds every woman that life ...
Show the rest
Details
Access
Music Badge, Platinum Badge, Artist Wristband
Format