Friday, March 11
11:30PM - 1:07AM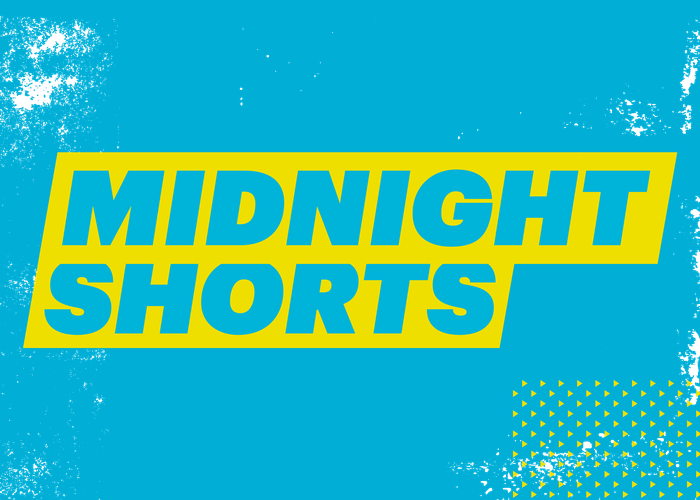 Synopsis
Director: Simon Cartwright
When Glen attends primal scream class, he releases something from deep within that knows no limits.
Director: Brian Lonano
A recently released criminal is looking for a good time. He can forget his sins but he can never forget... Gwilliam.
Director: Calvin Lee Reeder
An unassuming man is captured against his will and forced to endure a strange experiment.
Director: Shant Hamassian
Beautiful teenage Jenelle dances half-naked, drinks alcohol, does drugs, and has sex... but not for fun. She keeps a secret list titled "Horror Movie Sins" and checks each one off until.... a masked slasher appears! Her neck scar reveals she was attacked in the past by him and is now ready to fight back. She will do anything she can, including putting other people's lives at risk, in order to lure him, trap him, and defeat him once and for all. But she might be developing an addiction...
Director: New Media Ltd
THE NIGHT STALKER WILL POISON YOUR TOGO FOOD AND CHANGE YOUR FACE TO PLASTIC ANS DESTROY YOUR LIFE!!! YOU WILL WATCH THIS FILM AND THEN COME HOME AND YOUR DOG WILL BITE YOU BECAUSE YOU ARE NOT THE SAME! NIGHT STALKER!! NIGHT STALKER!! NIGHT STALKER!!!!!!
Director: Andrew Laurich
A desperate son (Stephen Ellis) reconnects with his estranged father (John Ennis) over an absurd request that will change their lives forever. Awash in debt and strapped with a pregnant girlfriend, Seth is willing to go the distance for some extra cash. The questions is, can he convince his recovering father to do the same? A REASONABLE REQUEST questions the integrity of the family bond and places a price on one's dignity. It's a dark comedy that teeters the line of ethics and flaunts the notion of appropriate.
Director: A.J. Briones
A little girl home alone finds herself face-to-face with pure evil.
Director: Max Weiland
God couldn't be everywhere, so he created mothers. Leonard (Jamie Goldberg) is trapped between his yearning for freedom and his deep tie to his mother (Alexis Zegerman). A Jewish boy railing against his seductive mother he expresses comfort under her wing, but also a rage, a desire to cut loose. AN ARM'S LENGTH is a dark and unsettling British comedy about a Jewish mother's relationship with her son. Steeped in the traditions of Jewish humour and folklore the surreal finale becomes a metaphor for the cliché of the castrating mother.
Director: Zach Lasry
Manic man-child Seth lives in his own demented world where time is of the essence, his only friends are his stuffed animals, and the words of Michael Jordan inspire him to take all the shots he can which, for Seth, means impressing his father. An incredibly bizarre series of trials and errors ensue eventually leaving Seth feeling defeated before he makes one last attempt to win his father's love and approval.
Director: Stephen Cedars, Benji Kleiman, Benji Kleiman
Sara's at the clinic with a weird problem: she's nine-months pregnant, and it happened overnight. Stuck with her judgmental ex-best-friend, a nurse who thinks she's cray, and a creepy feeling that she's totally effed, Sara will have to face a supernatural force... And make sure her mom doesn't find out about any of it.
Director: Eduardo Casanova
Samantha has taken a selfie of her face and posted it on Instagram, but it has been censored and deleted for alleged "sexual content". Samantha did not choose to be born this way. Samantha is sick and tired of people's laughs.
Director: Price James
The film highlights the realities of armed service for young soldiers. The parody of iconic 80s Action Man toys, appears to be adverts for a new range of toys but the 'adverts' are in fact a dark satire on the reality of life and death in and after the army. The bleak but trenchant films showcase three new toys, PTSD Action Man ("with thousand-yard stare action"), Paralysed Action Man ("legs really don't work") and Dead Action Man ("coffin sold separately"). The films are an attempt to draw attention to the way the British Army targets teenagers in its search for new recruits while downplaying the often brutal repercussions in their advertising.
Director: Sawako Kabuki
A nocturnal education film, designed to help children develop their emotions and expressions as well as language and physical skills by enjoying singing and exercising with a big brother.

Section: Short Film Program
Year: 2015
Runtime: 97min
Still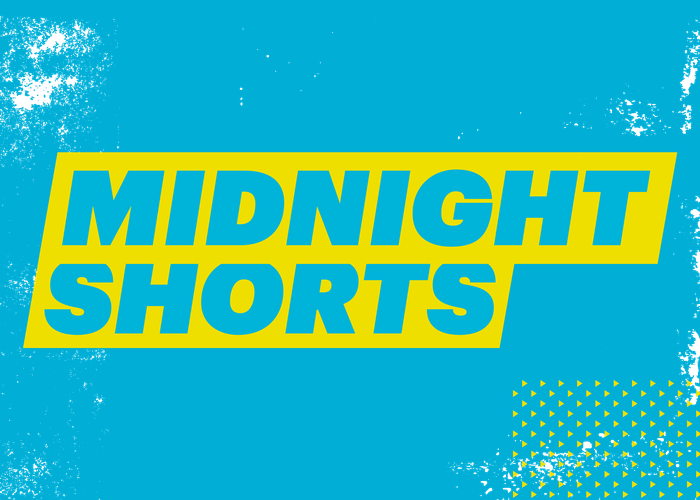 Details
Access
Film Badge, Gold Badge, Platinum Badge, Film Festival Wristband
Format