Paid or Pain with Lisa Ann
Sunday, March 13
11:00PM - 12:30AM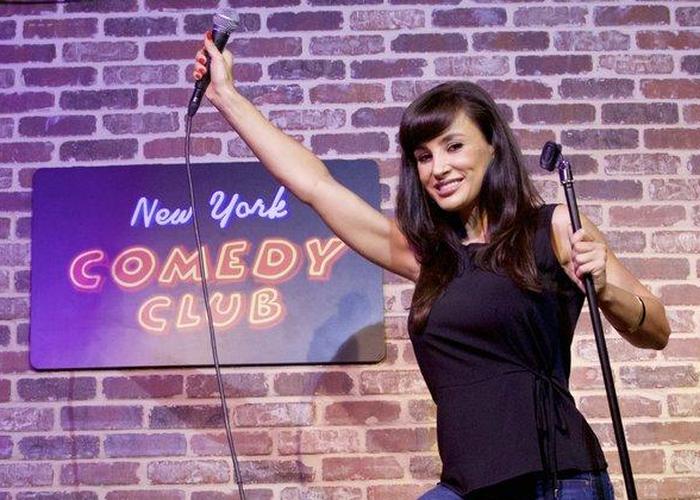 Paid or Pain, hosted by Lisa Ann and Jay Nog, rewards comics who win over the crowd -- and inflicts pain (doled out by the show's House Dominatrix) on those who don't. You won't want to miss your chance to be a part of this completely one-of-a-kind comedy gameshow, where it's up to the audience to decide comedian's fates.
Presenters

Adam Hrabik
Adam Hrabik is a Nebraska native who's making his mark on the Austin standup scene; he's appeared at the Crom West Comedy Fest and the Beast Village Comedy Festival, and he's the author of the hilarious Man vs. Man vs. Food blog.

Andrew Santino
Standup Andrew Santino's been busy: in the past two years, he's appeared on @midnight, Conan, and The Meltdown with Jonah and Kumail, released a Comedy Central half hour and put out an album, Say N...
Show the rest

Jay Nog
Jay Nog has been entertaining audiences with his rambunctious stand-up comedy since 2004. He is not known for holding back with his material. At first Nog appears scruffy and blunt, but audiences q...
Show the rest

Lisa Ann
Lisa Ann is the co-host of comedy game show Paid or Pain. Formerly named the No. 1 Adult Film Star in the world by the New York Post, Lisa Annis the reigning champion of the SiriusXM Celebrity Fant...
Show the rest

Luke McClory
Luke McClory has appeared at the Boston Comedy Festival and the Out of Bounds Comedy Festival; an Austin-based standup, he's advanced multiple times in the prestigious Funniest Person in Austin Con...
Show the rest

Michael Priest
Michael Priest is a standout in the Austin comedy scene for his sharp wit, dark humor, and completely offbeat comedic sensibility. A regular performer at the world famous Velveeta Room, Priest has ...
Show the rest

Nick Saverino
Standup Nick Saverino moved to Austin from Springfield, MO in summer of 2014 and quickly established himself in Austin's growing scene. He co-produces a comedic storytelling show every month called...
Show the rest

Todd Glass
Todd Glass has performed on nearly every late night stage and appeared on dozens of iconic comedies (from Friends to Tough Crowd to Mr. Show); a former Last Comic Standing contestant, Glass is also a podcaster and a best-selling author.
Details
Access
Film Badge, Interactive Badge, Gold Badge, Platinum Badge
Genre