Cuddly Drones: When Kids Design Drones
Monday, March 16
5:00PM - 6:00PM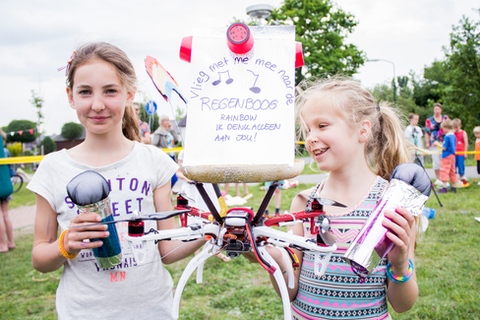 We discuss and showcase the creations developed during our "Cuddly Drones" project.
This educational project challenged children (7-10) to design actually flying drones that they thought would be useful to society.
From serious to delightful and arty, everything was there: disco drones (for use in clubs, a big discoball attached below), window cleaning drones (so architecture could take stranger shapes and still be cleaned properly), karaoke drones, farming-smoothymaking drones, candy dispensing drones, mind-reading drones, trash pickup drones (just throw it in the air). The list is long and wonderful.
The project is part of a year-long exploration of emerging surveillance culture, exploring the democratization of surveillance tools. How do teach children to critically explore this drone-filled future?
In collaboration with
- Ruben Pater (designer of the Drone Survival Guide)
- Jasper van Loenen (of "Drone It Yourself kit" fame)
Presenters
Krista Hendriks
Producer/Teacher
SETUP medialab
Krista (1986) is an educator and producer at the SETUP medialab. She manages and develops innovative education programs in cooperation with local schools and national educational organisations. A s...
Show the rest
Tijmen Schep
Creative Lead
SETUP medialab
Tijmen Schep (1981) is creative lead and founding member of the SETUP medialab, in Utrecht, the Netherlands. With a background in both interaction design and mediatheory, he aims to narrow the gap ...
Show the rest