Social Media Celebrity: Audience vs True Influence
Saturday, March 14
12:30PM - 1:30PM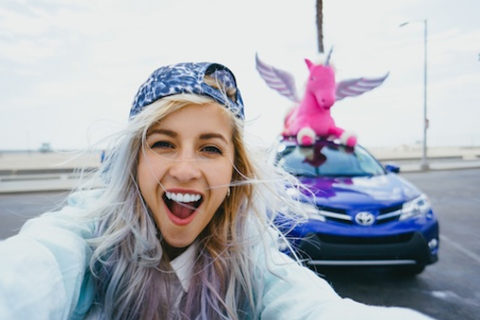 Influencer outreach remains core to many brand and product marketing campaigns. However, apart from generating social "participation at scale," these partnerships may offer brands and their agencies little to show for the investment, other than a quick bump in credibility.
Some brands further elect to create industry spokespeople, who become celebrity influentials themselves. But there are risks.
This expert panel debates the pros & cons of creating social media celebrities, or partnering with digital screen stars. BuzzFeed's VP of Video, Jonathan Perelman will argue against creating or paying influentials in social media. Former Nike Mktg. Execs turned agency co-founder Amir Mohamadzadeh (Rosewood LA) will argue in favor of social celebrity & influentials. Toyota's Lisa Materazzo, Corp. Mgr. Media & Digital Engagement will hold the center. Saatchi & Saatchi LA's Ciaran Bossom will moderate. Rosewood's recent work for Nike Fuelband will be showcased.
Presenters
Amir Mohamadzadeh
Co-Founder
Rosewood Creative
Amir oversees business development and growth for ROSEWOOD. With a sharp focus on strengthening client relationships and a network of over 900 influencers, he works to identify and create opportuni...
Show the rest
Ciaran Bossom
Managing Dir Digital & Social Media Strategy
Saatchi & Saatchi LA
I help my clients, my teams and my company navigate radical shifts in the digital marketplace by crafting and implementing multi-channel digital strategy designed to spark innovation within an orga...
Show the rest
Jonathan Perelman
GM Video & VP Agency Strategy
BuzzFeed
Recognized speaker, former political advisor to Senator Cory Booker, and former Google executive Jonathan Perelman is a highly regarded political and business pundit who was voted to the AdWeek 50 ...
Show the rest
Lisa Materazzo
Corp Mgr Media Strategy & Digital Engagement
Toyota Motor Sales USA Inc
Lisa is a results-oriented marketing strategist with over 10 years of combined client and agency experience in the automotive industry. Lisa formulated Scion's youth marketing strategy and oversaw ...
Show the rest
Details
Access
Interactive Badge, Gold Badge, Platinum Badge
Theme
Branding and Marketing
Tags