What We Do in the Shadows
Synopsis
Viago (Taika Waititi), Deacon (Jonathan Brugh), and Vladislav (Jemaine Clement) are three flatmates who are just trying to get by and overcome life's obstacles—like being immortal vampires who must feast on human blood. Hundreds of years old, the vampires are finding that beyond sunlight catastrophes, hitting the main artery, and not being able to get a sense of their wardrobe without a reflection—modern society has them struggling with the mundane like paying rent, keeping up with the chore wheel, trying to get into nightclubs, and overcoming flatmate conflicts.
Credits
Director: Taika Waititi, Jemaine Clement
Executive Producer: Jemaine Clement
Producer: Taika Waititi, Chelsea Winstanley, Emanuel Michael
Screenwriter: Taika Waititi, Jemaine Clement
Cinematographer: Richard Bluck, DJ Stipsen
Editor: Jonno Woodford-Robinson, Yana Gorskaya, Tom Eagles
Production Designer: Ra Vincent
Music: Plan 9
Principal Cast: Jemaine Clement, Taika Waititi, Rhys Darby, Jonathan Brugh, Cori Gonzalez-Macuer, Stu Rutherford, Jackie Van Beek
Director Bio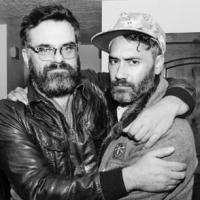 Taika Waititi's films include Eagle vs Shark and Boy. He also invented the sideways "Whatchoo talkin' bout?" look. Actor/director/MMA star Jemaine Clement was once a mogul in the door-to-door orange-juice selling trade; but, he was tragically reduced to having his own HBO show, Flight of the Conchords, and acting in movies like Men in Black 3.
Contact
Sales Agent: CAA / Micah Green
Public Film Contact
What We Do in the Shadows
Unison Films, Defender Films
shadows@id-pr.com
323-822-4824
Still