PULP
Synopsis
"PULP" find fame on the world stage in the 1990's with anthems including 'Common People' and 'Disco 2000'. 25 years (and 10 million album sales) later, they return to Sheffield for their last UK concert.
Giving a career best performance exclusive to the film, the band share their thoughts on fame, love, mortality - & car maintenance.
Director Florian Habicht ("Love Story") weaves together the band's personal offerings with dream-like specially-staged tableaux featuring ordinary people recruited on the streets of Sheffield.
"PULP" is a music-film like no other – by turns funny, moving, life-affirming & (occasionally) bewildering.
Credits
Director: Florian Habicht
Producer: Alex Boden,
Cinematographer: Maria Ines Manchego
Editor: Peter O'Donoghue
Music: Pulp
Principal Cast: Jarvis Cocker, Candida Doyle, Steve Mackey, Nick Banks, Mark Webber, Richard Hawley
Director Bio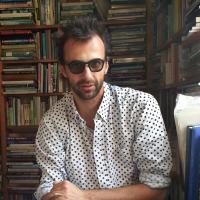 Florian Habicht studied at the Elam School of Fine Arts Auckland and Binger Filmlab in Amsterdam. Florian's debut Woodenhead became a cult hit in New Zealand and was distributed in the U.S.A. by Olive Films. In 2012 when his NYC feature Love Story screened at the London Film Festival, PULP invited him to make a feature documentary about the group.
Contact
Sales Agent: Altitude Film Sales
Public Film Contact
Mike Runagall
Altitude Film Sales
mikerunagall@altitudefilmsales.com
+44 7795 847 594
Still