Break Point
Synopsis
Jimmy Price (Jeremy Sisto) is a reckless man-child on the last leg of his career as a doubles tennis player. When his latest partner drops him, he realizes he's officially burned all of his bridges on the pro circuit. He decides to make one last ditch effort to revive his career, reaching outside of the tennis world and convincing his childhood partner -- his estranged brother Darren (David Walton), now an apathetic substitute teacher -- to team up with him. The mismatched pair, with the help of a unique 11-year-old named Barry (Joshua Rush), make an unlikely run at a grand slam tournament and are forced to re-discover their game, and their brotherhood.
Credits
Director: Jay Karas
Executive Producer: Daniel Hammond
Producer: Gabriel Hammond, Jeremy Sisto, Devin Adair
Screenwriter: Gene Hong, Jeremy Sisto
Cinematographer: James Frohna
Editor: Brad Wilhite
Production Designer: Daniel Butts
Music: Timothy Anderson
Additional Credits: Co-Producer: Lauren McCarthy, Co-Producer: Victor Moyers, Co-Producer: Gene Hong, Costume Designer: Kim H. Ngo, Post-Production Supervisor: Jason Tobias
Principal Cast: Jeremy Sisto, David Walton, Joshua Rush, J.K. Simmons, Amy Smart, Adam DeVine, Chris Parnell, Vincent Ventresca, Cy Amundson, Jenny Wade
Director Bio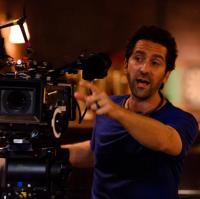 Jay Karas has directed episodes of Workaholics, Parks & Rec, Raising Hope & Eagleheart, and has helmed Chelsea Handler's scripted series After Lately for three seasons as showrunner & director. He has also directed numerous stand-up specials and commercial campaigns, including Conan's launch on TBS. Jay lives in LA with his wife Monica and son Leo.
Contact
Public Film Contact
Victor Moyers
Broad Green Pictures
vm@broadgreen.com
Still