Que Caramba es la Vida
Synopsis
Mariachi is an essential part of Mexican culture. It's more than just music; it's a lifestyle that views the world from a macho perspective. The business is tough and women are seldom appreciated in this strictly male domain. Nevertheless, a handful of female musicians choose to be Mariachi. Against the backdrop of the folky 'Día de los Muertes' celebrations, director Doris Dörrie accompanies the musicians to their performances on the streets of Mexico and throughout their daily lives. When the Mariachi women sing about death, love and poverty, the heavy issues of everyday life in Mexico City appear slightly more bearable.
Credits
Director: Doris Doerrie
Producer: Helge Albers, Sonja Ewers, Helge Sasse
Screenwriter: Doris Doerrie
Cinematographer: Daniel Schoenauer
Editor: Frank Mueller
Sound Designer: Daniel Seiler, André Bendocchi-Alves
Additional Credits: Research Mexico and Assistant Director: Ana Álvarez, Production Manager Mexico: Vlady Díaz
Principal Cast: María del Carmen, Estrellas de Jalisco, Las Pioneras
Director Bio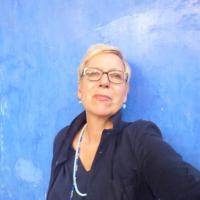 Doris Doerrie is one of the most famous filmmakers in Germany. Since 1976 she has made more than 30 feature films and received numerous national and international awards. Among her well-known films are BLISS (2012), HANAMI (2008, German Film Award in Silver/Bavarian Film Prize), NAKED (2002), AM I BEAUTIFUL? (1998) and NOBODY LOVES ME (1994).
Contact
Public Film Contact
Helge Albers
Flying Moon Filmproduktion GmbH
info@flyingmoon.com
+493032297180
Still