LADY VALOR: The Kristin Beck Story
Synopsis
Former U.S. Navy Seal Chris Beck embarks on a new mission as Kristin Beck. Kristin's journey in search of the American ideals that she protected: life, liberty and the pursuit of happiness have a whole new meaning as she lives her life truthfully as a transgender woman.
Credits
Director: Sandrine Orabona, Mark Herzog
Executive Producer: Lisa Davidson, Travis Lively, Chris Luke, Amy Entelis, Vinnie Malhotra
Producer: Mark Herzog, Christopher G. Cowen
Cinematographer: Jen White
Editor: Ryan Rothmaier
Sound Designer: Zach Seivers
Additional Credits: Ashlee Cohen, Line Producer: Matt Goldberg, Co-Executive Producer, Anne J. Speckhard, Co-Executive Producer, Sandrine Orabona, Co-Producer: Ryan Rothmaier, Co-Producer, Sandrine Orabona, Director: Mark Herzog, Director
Principal Cast: Kristin Beck
Director Bio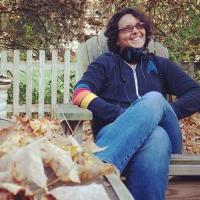 Sandrine Orabona has worked professionally for over two decades as a director, producer, editor and shooter.
Mark Herzog previously directed the documentaries "David McCullough:Painting with Words" and "He Has Seen War" for HBO, and with Ken Burns, "The Work to Come," a tribute to Senator Ted Kennedy for the 2008 Democratic National Convention.
Contact
Distributor: Courtney Sexton
Public Film Contact
Courtney Sexton
CNN Films
courtney.sexton@turner.com
323.993.5139
Still