Sequoia
Synopsis
A very lively woman with a very deadly cancer visits a national park with the intention of ending her life there-- but her suicide plans are continually thwarted, not least of all by her family, which finds itself unamused with her death wish.
Credits
Director: Andy Landen
Executive Producer: Roxanne Roberts, William Graves, Thomas Agosto
Producer: Giles Andrew, Ashleigh Phillips, Jessica Latham, Charles Denton
Screenwriter: Andrew Rothschild
Cinematographer: Stephen Ringer
Editor: Franklin Peterson
Production Designer: Bradley Rubin
Sound Designer: Dennis Schweitzer
Music: Mark Noseworthy
Additional Credits: Costume Design: Elise Velasco, Casting: Janelle Scuderi, Assistant Director: Ra-ana Gilani, VFX Supervisor: Jordan Freda
Principal Cast: Aly Michalka, Dustin Milligan, Todd Lowe, Demetri Martin, Sophi Bairley, Joey Lauren Adams, Lou Diamond Phillips
Director Bio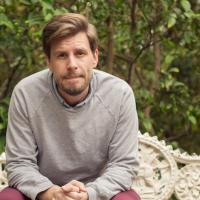 Born and raised in Canada, Andy grew up making skateboard videos. He's a graduate of USC's School of Cinematic Arts and a past winner of the Coca-Cola Refreshing Filmmaker award, which saw his short film "Message in a Bottle" screen in over 30,000 AMC movie theaters. He currently lives in Los Angeles. "Sequoia" is his first feature.
Contact
Public Film Contact
Giles Andrew
Honora Productions
giles@honoraproductions.com
646-643-9052
Still