Rubber Soul
Synopsis
In December 1970, John Lennon and Yoko Ono were interviewed by Rolling Stone's Jann S. Wenner prior to the release of their "Plastic Ono Band" albums. Ten years later, in September 1980, the couple granted their first in-depth interview in five years to Playboy while they were in the process of recording "Double Fantasy". "Rubber Soul" reconstructs portions of these two historical interviews based on available transcripts and audio, juxtaposing them in order to explore the dynamic nature of Lennon's identity over time.
Credits
Director: Jon Lefkovitz
Producer: Stephen Paratore, Talia Stol
Screenwriter: Jon Lefkovitz
Cinematographer: Anthony C. Kuhnz
Editor: Jon Lefkovitz
Sound Designer: Jon Lefkovitz
Additional Credits: Associate Producer: Kyle Smith
Principal Cast: Joseph Bearor, Denice Lee, Dillon Porter, Andrew Perez
Director Bio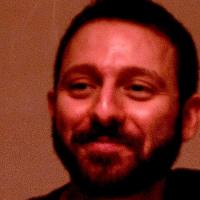 Jon Lefkovitz graduated in 2005 from Northwestern University, where he made his first feature film, "Movie Boy". He has worked in Los Angeles since 2006 as an editor in film and television advertising. Jon's second feature film "Engagement" was distributed by FilmBuff in 2012. For more information, please visit jonlefkovitz.com.
Contact
Public Film Contact
Jon Lefkovitz
Long Short Productions
jon@jonlefkovitz.com
Still