Predestination
Synopsis
"Predestination" chronicles the life of a Temporal Agent sent on an intricate series of time-travel journeys designed to ensure the continuation of his law enforcement career for all eternity. Now, on his final assignment, the Agent must pursue the one criminal that has eluded him throughout time.
Credits
Director: Michael Spierig, Peter Spierig
Executive Producer: Michael Burton, Gary Hamilton, Matt Kennedy, James M. Vernon
Producer: Tim McGahan, Patrick McDonald
Screenwriter: Michael Spierig, Peter Spierig
Cinematographer: Ben Nott, A.C.S.
Editor: Matt Villa, A.S.E.
Production Designer: Matthew Putland
Sound Designer: Chris Goodes
Music: Peter Spierig
Additional Credits: Costume Designer: Wendy Cork, Special Makeup Effects Designer: Steve Boyle
Principal Cast: Ethan Hawke, Sarah Snook, Noah Taylor
Director Bio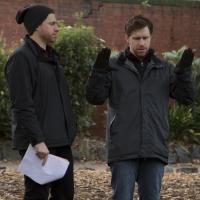 Identical twins Peter & Michael Spierig have been making films together since they discovered their father's video camera at the age of ten. Pooling their savings enabled the brothers to make their first feature, Undead; putting them and their script, Daybreakers on the radar with the pair directing, which was picked up by Lions Gate Entertainment.
Contact
Public Film Contact
Guido Gotz
MPRM Communications
ggotz@mprm.com
323-933-3399
Still