Honeymoon
Synopsis
Young newlyweds Paul (Harry Treadaway) and Bea (Rose Leslie) travel to remote lake country for their honeymoon where the promise of private romance awaits them.  Shortly after arriving, Paul finds Bea wandering and disoriented in the middle of the night. As she becomes more distant and her behavior increasingly peculiar, Paul begins to suspect something more sinister than sleepwalking took place in the woods.
Credits
Director: Leigh Janiak
Executive Producer: Julie Parker Benello, Allen Benello, Brandon Dufour, John Dufour, Chris Pilaro, Daniel Troiano
Producer: Patrick Baker, Esmé Howard
Screenwriter: Phil Graziadei, Leigh Janiak
Cinematographer: Kyle Klutz
Editor: Christopher S. Capp
Production Designer: Chris Trujillo
Sound Designer: Trevor Gates
Music: Heather McIntosh
Additional Credits: Costume Designer: Courtney Arthur
Principal Cast: Rose Leslie, Harry Treadaway, Ben Huber, Hanna Brown
Director Bio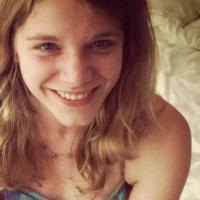 Leigh grew up in suburban Cleveland. She attended undergraduate at NYU, where she studied creative writing and comparative religion. She attended graduate school at the University of Chicago, and currently lives in Los Angeles. "Honeymoon" is her first feature film.
Contact
Public Film Contact
Jessica Lacy
ICM Partners
jlacy@icmpartners.com
310-550-4316
Still