From Dusk Till Dawn: The Series
Synopsis
**Extended Q&A to follow screening
Based on the classic cult film, "From Dusk Till Dawn: The Series" is a supernatural crime saga centered on bank robber Seth Gecko (Cotrona) and his violent, unpredictable brother, Richie Gecko (Holtz), who are wanted by Texas Rangers Earl McGraw (Johnson) and Freddie Gonzalez (Garcia). While on the run to Mexico, the Gecko Brothers take former pastor Jacob Fuller (Patrick) and his children hostage. Using the family RV to cross the border, chaos ensues when the group ends up at a strip club populated by vampires. The series deepens the tone of the film, adds new characters and storylines, and explores the Mesoamerican mythology behind the creatures inside the club.
Credits
Director: Robert Rodriguez
Executive Producer: Robert Rodriguez, Carlos Coto, Diego Gutierrez, John Fogelman, Cris Patwa
Producer: Mark McNair,
Screenwriter: Robert Rodriguez
Cinematographer: Eduardo Mayen
Editor: Ian Silverstein
Production Designer: Steve Joyner & Caylah Eddleblute
Sound Designer: Paula Fairfield
Additional Credits: Makeup Effects: Greg Nicotero
Principal Cast: D.J. Cotrona, Zane Holtz, Eiza González, Jesse Garcia, Lane Garrison, and Wilmer Valderrama, and Don Johnson
Director Bio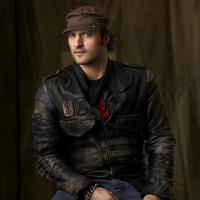 Robert Rodriguez is a film director, screenwriter, producer, cinematographer, editor, and musician. Based in Austin, TX, he is also the Founder and Chairman of El Rey Network, the new genre-busting English-language cable network.
Contact
Distributor: El Rey Network
Public Film Contact
Brandy Fons
Fons PR
Brandy@fonspr.com
310-809-8882
Still