Buzzard
Synopsis
Paranoia forces small-time scam artist, Marty to flee his lousy temp job and hide out in his co-worker's basement. Once the sugar high wears off, the horror metal slacker crashes hard, fleeing to Detroit with nothing but a pocket full of bogus checks, his Power Glove, and a bad temper. It's like Albert Camus meets Freddy Krueger.
Credits
Director: Joel Potrykus
Executive Producer: Joel Potrykus
Producer: Michael Saunders, Ashley Young
Screenwriter: Joel Potrykus
Cinematographer: Adam J. Minnick
Editor: Joel Potrykus
Production Designer: Barn Hansen
Sound Designer: Peter Fox
Additional Credits: Associate Producer: Kevin Clancy, Associate Producer: Tim Saunders, Assistant Camera: Brandon J. Bowman, Visual Effects: Chuck Potrykus, Locations: Ella Swift
Principal Cast: Joshua Burge, Joel Potrykus, Teri Ann Nelson, Alan Longstreet, Rico Bruce Wade, Katie Call, Joe Anderson, Chris Kotcher, Michael Cunningham, TRPL BLK
Director Bio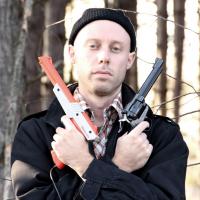 Potrykus resides in Grand Rapids, MI USA working with his film band Sob Noisse. His first feature, APE, won Best New Director at the 2012 Locarno Film Festival. Potrykus is also a film critic for an annual publication.
Contact
Distributor: Oscilloscope Laboratories
Sales Agent: Bill Straus
Public Film Contact
Joel Potrykus
Sob Noisse
joelpotrykus@gmail.com
616-481-5847
Still