A Wolf at the Door
Synopsis
Set in Rio de Janeiro, "A Wolf at the Door" is the nerve-rattling tale of a kidnapped child and the terror of the parents left behind. When Sylvia (Fabíula Nascimento) discovers her 6 yr old daughter has been picked up at school by an unknown woman, police summon her husband Bernardo (Milhem Cortaz) to the station for questioning. There Bernardo confesses his extra-marital affair with Rosa (Leandra Leal), whom detectives believe to be involved in the kidnapping. Inspired by real events, Brazilian filmmaker Fernando Coimbra's debut feature captures the heightened anxiety of every parent's worst nightmare, casting a light upon the cruelties of which humans are capable.
Credits
Director: Fernando Coimbra
Screenwriter: Fernando Coimbra
Cinematographer: Lula Carvalho
Principal Cast: Milhelm Cortaz, Leandra Leal, Fabiula Nascimento
Director Bio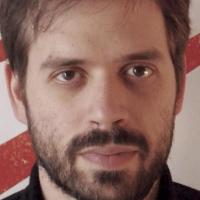 Fernando wrote and directed 9 short films: "The Bitterness of a Sandwich Man" - 1995; "God´s Portait when He was Young" - 1996; "Poor Devils in Paradise" – 2005; "Trópico das Cabras" – 2007; "The Devil´s Bottle" – 2008; "Napoleon´s Kidney" – 2009; "Playing Tennis with Jean-Luc Godard" - 2009 and "Magnificent Desolation".
Contact
Distributor: Outsider Pictures
Sales Agent: Mundial Sales
Public Film Contact
Paul Hudson
Outsider Pictures
paul@outsiderpictures.us
+13109510878
Still