A Night In Old Mexico
Synopsis
Forced to give up his land and home, Texas rancher Red Bovie isn't about to retire quietly in a dismal trailer park. Instead he jumps in his Cadillac and hits the road with his estranged grandson for one last wild adventure filled with guns, women and booze. It's just another night in Old Mexico.
Credits
Director: Emilio Aragón
Executive Producer: María P. Aragón, Santiago De La Rica, Itziar Puga, Christopher Bates, Axel Kuschevatzky, Gabriel Arias-Salgado
Producer: Sunmin Park J.Ethan Park, Emilio Aragón, William D. Wittliff, Robert Carliner, Robert Duvall, Daniel Écija, César Vargas Sanz
Screenwriter: William D. Wittliff
Cinematographer: David Omedes
Editor: José Salcedo, Andrew Mondshein
Production Designer: Barbara Haberecht
Sound Designer: Pelayo Gutiérrez
Music: Emilio Aragón
Principal Cast: Robert Duvall, Jeremy Irvine, Angie Cepeda, Luis Tosar, Joaquín Cosio, Javier Gutierrez, Jim Parrack, James Landry Hébert, Michael Ray Escamilla, Abraham Benrubi
Director Bio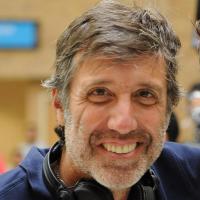 Emilio is one of the founding partners at Globomedia, the leading fiction production company in Spain and one of the first in Europe. He debuted as director and screenwriter with Paper Birds (he also composed the OST). In 2013, he directed and composed the soundtrack for A Night in Old Mexico.
Contact
Distributor: Phase 4 Films
Public Film Contact
Steve St. Amant
Phase 4 Films
sstamant@phase4films.com
416-783-8383 ext. 254
Still