Bad Words
Synopsis
Jason Bateman ("Identity Thief") makes his feature directorial debut with the subversive comedy Bad Words.
In the movie, he stars as Guy Trilby, a 40-year-old who finds a loophole in the rules of The Golden Quill national spelling bee and decides to cause trouble by hijacking the competition.
Contest officials, outraged parents, and overly ambitious 8th graders are no match for Guy, who zealously plays to win the prize money at stake, outpacing the pre-teen field in match after match. While reporter Jenny Widgeon (Kathryn Hahn of "We're the Millers") attempts to discover his true motivation, Guy finds himself forging an unlikely alliance with a competitor: awkward 10-year-old Chaitanya Chopra (Rohan Chand of "Homeland"), who is completely unfazed by Guy's take-no-prisoners approach to life.
Credits
Director: Jason Bateman
Executive Producer: Edward H. Hamm, Jr., James Garavente, Darren Demetre
Producer: Jason Bateman, Mason Novick, Sean McKittrick, Jeff Culotta
Screenwriter: Andrew Dodge
Cinematographer: Ken Seng
Editor: Tatiana S. Riegel, A.C.E.
Production Designer: Shepherd Frankel
Sound Designer: Steve Cantamessa
Music: Rolfe Kent
Additional Credits: Music Supervisor: Chris Mollere, Costume Designer: April Napier, Co-Producers: Gary Marcus, Michelle Knudsen, Casting: Jeanne McCarthy, CSA and Nicole Abellera, CSA
Principal Cast: Jason Bateman, Kathryn Hahn, Rohan Chand, Philip Baker Hall, Allison Janney
Director Bio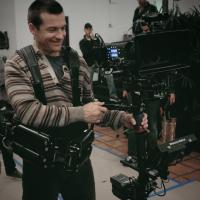 Jason Bateman produces, directs, and acts in feature films while continuing to produce, direct, write, and develop projects for television.
For his portrayal of Michael Bluth in the Mitch Hurwitz-created comedy series Arrested Development, he has been honored with a Golden Globe as well as Emmy and Screen Actors Guild Award nominations.
Contact
Distributor: Focus Features
Public Film Contact
Kimberly Smith
Focus Features
kimberly.smith@focusfeatures.com
310-315-1722
Still