Creep
Synopsis
Looking for work, Aaron (Patrick Brice) comes across a cryptic online ad:
$1,000 for the day. Filming service. Discretion is appreciated.
Low on cash and full of naiveté he drives to a cabin in a remote mountain town where he meets Josef (Mark Duplass), his cinematic subject for the day. Josef is sincere and the project seems heartfelt, so Aaron begins to film. But as the day goes on, it becomes clear that Josef may not be who he says.
Brice's directorial debut, and produced by Jason Blum ("Paranormal Activity", "Insidious") and Mark Duplass ("Safety Not Guaranteed"), "CREEP"'s intense and chilling interplay between its two protagonists shows from the start that this film is not what it seems.
Credits
Director: Patrick Brice
Producer: Mark Duplass, Jason Blum
Screenwriter: Patrick Brice, Mark Duplass
Editor: Christopher Donlon
Production Designer: Lynsay Richardson Brice
Sound Designer: Dane Davis
Music: Eric Kuhn, Kyle Field, Sonny Smith
Additional Credits: Co-Producer: Christopher Donlon
Principal Cast: Mark Duplass, Patrick Brice
Director Bio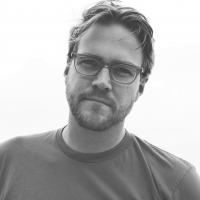 Patrick Brice holds a BFA in Film from the California Institute of the Arts. His first documentary short, "Maurice" premiered at Rotterdam International Film Festival in 2012. "Creep" is his first narrative project as well as his feature film debut. He lives and works in Los Angeles.
Contact
Sales Agent: Josh Braun, Submarine Entertainment
Public Film Contact
Patrick Brice
Duplass Brothers Productions
patrickack@gmail.com
917-551-5853
Still