U.S. Immigration Options for Musicians from Abroad
Artists who work internationally must consider their immigration status in the countries where they plan to work. Review the U.S. immigration process for musicians. Discover the procedures, timelines, and expenses associated with procuring a visa, and gain a clear understanding of the complex requirements of the visa process.
Presenters

MODERATOR
Sharon Brenner
Atty
Surowitz Immigration PC
Sharon Brenner has worked in various sectors of immigration law since 2004. She is well-versed in visa matters for creatives, and has spoken on the topic on numerous occasions. Just a few of her diverse clientele in this area have included renowned musicians, film industry professionals, fashion designers, fine artists, chefs, graphic designers, photographers and more.
Sharon also represents clients in business-related immigration matters, from individuals to startups to established businesses, and has spoken at coworking and incubator spaces about U.S. immigration options for startups and entrepreneurs. Sharon's work additionally includes family-based immigration, asylum, and naturalization.
Sharon is a member of the California Bar and the American Immigration Lawyers Association. She holds B.A. degrees in African History and International Relations from the University of California, Davis. She also studied at the University of Cape Town in South Africa and New York University's program in Paris, France.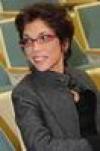 Linda Rose
Atty & Musician
Rose Immigration Law Firm PLC
Linda Rose is a noted immigration attorney based in Nashville, TN. She is consistently cited as one of Tennessee's top attorneys and is listed in U.S. News and World Report among the best attorneys. She is also a musician. She plays vibraphone and the African xylophone and leads the jazz ensemble RoseOnVibes Quintet.

Laya Kushner
Atty
Kushner And Kushner PC
Jonathan Ginsburg
Atty
Fettmann Ginsburg PC