Fearlessly Funny: The Women Changing Digital Humor
Wait, are people still saying women aren't funny? Internet trolls aside, fearless and hilarious women are trailblazing and transforming the way readers connect with digital content -- and that (obviously) includes humor. Women in the digital space are reaching huge audiences every day through their personal brands of humor, which range from painful to hilarious, and run the gamut (and blur the lines) between.
Jane Pratt, founder of Sassy and Jane magazines and now editor in chief of xoJane.com, has assembled a panel of brilliant, irreverent and hilarious women for this SXSW session. Join the industry's game changers as they discuss what women actually find funny, how social media has empowered humor through shameless oversharing, and how they scour the internet for the best comedy material. Audience Q&A to follow.
Presenters

Issa Rae
Producer
Issa Rae
With her own unique flare and infectious sense of humor, Issa Rae's content has garnered over 20 million views and close to 150,000 subscribers on YouTube. In addition to making Glamour Magazine's "35 Under 35" list (2013) as well as Forbes' "30 Under 30" list (2013 and 2014) and winning the 2012 Shorty Award for Best Web Show for her hit series "The Misadventures of Awkward Black Girl," Issa Rae has worked on web content for Pharrell Williams, Tracey Edmonds and numerous others. She developed a TV series with Shonda Rhimes for ABC and is currently developing a half-hour comedy for HBO with Larry Wilmore. Rae is also slated to release a book of essays with Simon & Schuster in 2014. Issa has received national attention with major media outlets including The New York Times, CNN, ELLE, Seventeen, Rolling Stone, VIBE, Fast Company, MSNBC, Essence, Fader and more.

Jane Pratt
Editor In Chief
xoJane
Jane Pratt, Editor-in-Chief xoJane
The founder and creator of xoJane, Jane Pratt first established herself as a generational icon as the founding editor of Sassy magazine in 1987 when she was 24 years old, and later as founder and Editor-in-Chief of Jane magazine in 1997. Forbes named xoJane among the Top 100 Websites for Women in 2012, and Advertising Age named Pratt one of the most powerful women in advertising. She is an author, radio personality, mom and entrepreneur.
http://www.saymedia.com/xojane-0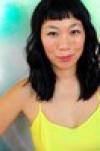 Kristina Wong
Solo Performer, Writer, Cultural Commentator
Kristina Wong is a solo performer, writer and cultural commentator named "One of the Seven Funniest Eco-Comedians" by Mother Nature Network. She's created five solo shows and one ensemble play that have toured all over the world at places that include the Edinburgh Fringe Festival in Scotland, Contact Theater in Manchester, UK, BGWMC in London, the Public Theater, REDCAT, Center Theater Group, La MaMa ETC, the Comedy Central Stage among dozens of others. Her most notable touring show– "Wong Flew Over the Cuckoo's Nest" looked at the high rates of depression and suicide among Asian American women and toured to over 40 venues since 2006. It's now a broadcast quality film that has been acquired for worldwide distribution by documentary juggernaut, Cinema Libre Studios. (More on the film at www.flyingwong.com). She's been a commentator for American Public Media's Marketplace, PBS, Jezebel, xoJane, Playgirl Magazine and a guest on FXX's "Totally Biased with W. Kamau Bell," Fusion TV, and Huffington Post Live. Her work has been awarded with grants from Creative Capital, The Map Fund, Center for Cultural Innovation, the Durfee Foundation, National Performance Network, four grants from the Los Angeles Department of Cultural Affairs, and a residency from the MacDowell Colony. Kristina was an alumna commencement speaker at UCLA's Department of English graduation. Her new show "The Wong Street Journal" looks at global poverty and premieres in 2015. She recently spent a month in Northern Uganda researching that show and recording "Mzungu Price" a rap album with local rappers. Her mail order bride website is www.bigbadchinesemama.com. More at www.kristinawong.com

Mandy Stadtmiller
Deputy Editor
xoJane
I'm deputy editor of xoJane.com. I also host the popular podcast "News Whore" on the Riotcast Network which has consistently ranked in the iTunes 200 for comedy and been featured everywhere from The Artie Lange Show to Opie & Anthony to the front page of The New York Observer. At Northwestern University from 1993-97, I placed twice as a finalist in the Hearst Journalism Awards and served as entertainment editor of The Daily Northwestern. In 2006 I placed first in the inaugural New York's Funniest Reporter Contest as part of the New York Underground Comedy Festival. In 2007, I was a semi-finalist in the Funniest Stand-Up in New York through the New York Comedy Festival. My writing has been published in The Village Voice, The New York Post, The Los Angeles Times, The Washington Post and Playgirl.