How to Capitalize on OPEN DATA
This panel will present an engaging and balanced discussion about the impact of open data on the real world of information usage and consumption. The panelists each have years of experience in harnessing open data for the benefit of consumers. We will discuss sources of open data, and how to find and bring value to the marketplace. Some say that all information should be free; others try to bring open data under private ownership. What is the best open data model to encourage entrepreneurship and maximize consumer access to information? Aman Bhandari will moderate the views across this panel.
Presenters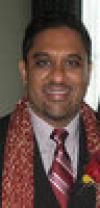 Aman Bhandari
Global Dir of Strategic Alliances
Merck
Aman Bhandari works at the White House Office of Science and Technology Policy where he is a Senior Advisor to the U.S. Chief Technology Officer. While in government he worked on a variety of domestic and global health policy issues and national initiatives that focused on the intersection of health IT, data and innovation. He launched the flagship open data effort around health which aimed at connecting entrepreneurs with free health related data to power services and applications. Aman also co-founded the Federal Mobile Health Collaborative, advancing the development of HHS mHealth policies and programs.

Ashish Patel
Data Journalist
The DocGraph Journal
Ashish Patel is one of the founders of and a data journalist with the DocGraph project, a community of academics, data scientists, and journalists with the mission of analyzing open health data to provide feedback to the public. Ashish is also an information security expert with a background in industrial engineering, finance, and real estate.

Michael Atkin
Managing Dir
Enterprise Data Management Council
Mike has been a financial information industry advocate for over 25 years. He is currently the Managing Director for the Enterprise Data Management Council – a business forum for financial institutions, data originators and vendors on the strategy and tactics of managing data as an enterprise-wide asset.

Mike is an active participant in industry initiatives, provides consultation to global market authorities on the data implications of financial regulatory reform and is recognized as an expert in reference data strategy, governance, data quality and standards. He is currently a member of the Office of Financial Research's (OFR) Financial Research Advisory Committee, Chair of the FRAC Data and Technology Subcommittee, member of the Financial Stability Board's LEI Private Sector Participatory Group; member of the LEI Steering Committee within GFMA, member of the CFTC's Data Standardization Subcommittee; on the Board of Advisors for the Data Transparency Coalition, and member of both ISO TC68/SC4 and ANSI/X9D.
Susan Strausberg
Co-Founder
9W Search Inc