JOHNNY WINTER: DOWN & DIRTY
Synopsis
Speaking about Johnny Winter, Muddy Waters said "When I first heard him, I thought he was one of the greatest blues players in the business."
"LEMMY" co-director/producer Greg Olliver spent two years following Johnny from his home in Connecticut to France, Japan and beyond to create an intimate portrait of the Texas musician who played Woodstock, partied with the Rolling Stones and John Belushi, dated Janis Joplin, and jammed with Jimi Hendrix.
Aptly named "JOHNNY WINTER: DOWN & DIRTY" by Johnny himself, this documentary explores what it's like to live a life of sex, drugs and rock & roll debauchery with only a few regrets… but not without consequences.
Credits
Director: Greg Olliver
Executive Producer: Paul Nelson
Producer: Jeremy Mack, Greg Olliver, Chris Robertson
Cinematographer: Greg Olliver
Editor: Jeremy Mack, Greg Olliver
Music: Johnny Winter
Principal Cast: Johnny Winter, Edgar Winter, James Cotton, Billy Gibbons, Warren Haynes, Luther Nallie, Tommy Shannon, Derek Trucks, Susan Tedeschi
Director Bio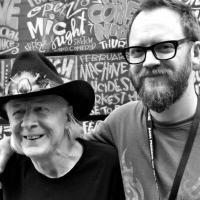 Greg Olliver premiered his first film, "LEMMY", at SXSW 2010.
"TURNED TOWARDS THE SUN", Greg's 2nd doc, was nominated for the Grierson Award at BFI's London Film Fest in 2012, and his narrative feature, "DEVOURED", is set for release in the U.S. later this year.
"JOHNNY WINTER, DOWN & DIRTY" marks Greg's triumphant return to SXSW.
Contact
Public Film Contact
Greg Olliver
Secret Weapon Films
info@secretweaponfilms.com
Still