Deadbeat
Synopsis
**Extended Q&A to follow screening
"Deadbeat", a supernatural comedy, stars Tyler Labine ("Reaper") as a hapless medium who will do anything to finish New York City ghosts' unfinished business. "Deadbeat" also stars Brandon T. Jackson ("Tropic Thunder"), Cat Deeley ("So You Think You Can Dance"), and Lucy DeVito ("Melissa & Joey"). Co-produced by Hulu and Lionsgate Television, "Deadbeat" is directed and executive produced by Troy Miller ("Arrested Development", "Flight of the Conchords") through Dakota Pictures, co-created by Cody Heller & Brett Konner ("Wilfred"), and produced by Dede Gardner, Jeremy Kleiner and Sarah Esberg at Brad Pitt's Plan B Entertainment.
Credits
Director: Troy Miller
Executive Producer: Troy Miller, Dede Gardner, Jeremy Kleiner, Sarah Esberg, Cody Heller, Brett Konner
Producer: Don Poquette, Consulting Producers: John Carcieri, Tom Ruprecht, Supervising Producer: Tally Barr
Screenwriter: Written and Co-Created by Cody Heller, Brett Konner
Cinematographer: Trevor Forrest
Editor: Jim Towne
Production Designer: Timothy Whidbee
Sound Designer: Adam King
Additional Credits: Casting by: Cindy Tolan & Adam Caldwell, Costume Designer: Ryan Lennon
Principal Cast: Tyler Labine, Cat Deeley, Brandon T. Jackson, Lucy DeVito
Director Bio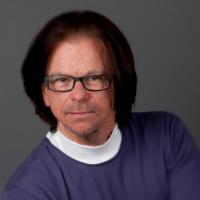 Nominated for 15 Emmy Awards with two wins, Troy Miller is a veteran producer/director with a strong history of groundbreaking alternative comedy and genre defining reality. Recently, he was Executive Producer/Director (with creator Mitch Hurwitz) of season four of "Arrested Development."
Still